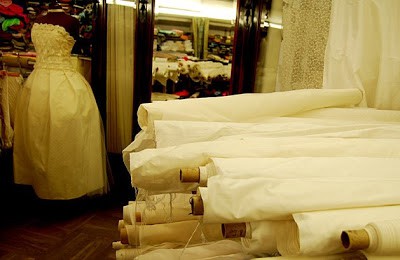 Bridal silks from the fabric store Gårda textil in Göteborg.
The subject this week is silk, which is a pretty weird way of producing a fabric when you think about it. But not as mind boggling as the latest trend in knitting yarns – i.e. threads made out of milk protein. I touched a ball of milk yarn the other week and it was wonderfully soft and luscious, though I still think it'll take me a while to get used to that concept. Anyhow, enough about the milk and over to the luxurious insect fabric. No one knows for sure how long silk has been used for fabrics, but scraps dating back to 2700 BC has been found in China .
How is silk made?
Most silk fabrics are derived from the cultivated bombyx moth. During the silkworm phase the moth feeds off mulberry, hence the name mulberry silk. The silkworm eats and eats for 35 days until it's stuffed with a liquid silk protein. After that they start to spin a silk filament that can be up to a mile long. After that the silkworm is generally killed by heat and the silk fiber is extracted. It takes 36 000 silkworms to produce 12 pounds (5,4 kg) of raw silk.
Should I hand wash or dry clean silk?
It depends on the fabric. Some silks change it's structure and surface when they comes in contact with water and to avoid this they should be dry cleaned. Also sometimes hand painted silk fabrics can start to bleed when wet, so they should also be dry cleaned. But many silks can be washed by hand according to my textbook. Cold water and a gentle detergent is a must. Also all excess water must have been removed before drying, preferable by rolling the fabric into a towel and pressing out the water.
Silk generally don't shrink much, but some creped fabrics with twisted yarns can apparently reduce it's size up to 50 percent when wet. I have never encountered this, but as always it's a good idea to testwash a sample before washing the whole fabric in water. Ironing should be done n the wrong side with a press cloth with a low to moderate temperature setting.
What is the difference between wild silk and raw silk?
Wild silk, or Tussah silk as the most common version is called, is derived from silkworms that are left unattained in their natural habitat. In order to produce wild silk the silkworm doesn't have to be killed which is why some ethically aware companies have started to use ethically produced wild silk fabrics instead. Wild silk has a more linen like surface, a tan natural colour and cannot be bleached. Raw silk on the other hand is made from domesticated silkworms, such as the mulberry worm. But the outer layer, the silkworm secretion, has not been removed which creates the slightly knotty surface.
What is the difference between Thai silk, Indian silk and Chinese silk?
Apart from the fact that they are made in different countries, the major difference is the structure which is due to both different silkworm species and different production methods. Thai silk has a coarse texture with uneven and knotty threads. Chinese silk on the other hand has a smoother surface and a more satiny look, silk satin is typical Chinese silk product. Indian silk is mostly seen in sari fabrics and is generally very soft and a little crinkly.