An owl screen print that will become the lid of Burdastyle's Diana bag.
After borrowing my daughter's Diana bag for a day, I felt a sudden urge to have one for myself as well. It's very practical and the size is perfect. As I didn't want a plain bag I also decided to add a print. The owl is designed by my boyfriend – actually what you see is only half of the print, there is a second part that is meant to be printed in a contrasting colour. But I wanted to keep it simple this time, since it's much trickier printing two tones.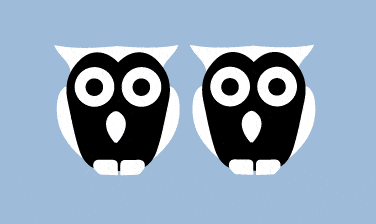 The complete owl design.
I love, love, love this print and one day want to use it as a hem decoration on a skirt. I have already printed it on a rayon/lycra t-shirt, but the stretchy fabric made the print crack a bit. Understanding all the printing variables is an ongoing process for sure.
I'm however very grateful for having someone with graphical skills at my disposal, he also designed this print for my favorite dress. As for the actual screen printing session it reminded me of a lesson I should have learned a long time ago – never start a tricky crafty pursuit when being stressed or in a bad mood. Yesterday was a particularly trying day at work and that really threw me off. To make my evening funnier and to give me a sense of accomplishment I decided to screen print the bag lid. The thing is, screen printing is no picnic – a lot of things can go wrong and you need to be either experienced or at least in a state of concentration to pull it off. I was neither and of course things went wrong. The first print bled like crazy because I was pushing the colour too hard into the fabric.

My first and disastrous printing attempt using the reversed pattern.
My second and final attempt, which you see in the first picture, went much better, but there are still some small mishaps that I fret over. I get a bit angry with myself for being like that. Why can't I just accept those small spots of imperfection and be proud of what I have accomplished?
I plan to make tutorial some day on how to screen print, but here are some recourses for those of who want to learn more: This one for photo emolusion (which I use) and this one for a more lo-tech emulsion approacah.