Although I already own the perfect bathing suit and won't be making one myself anytime soon, the book The swimsuit was a very inspiring read. And this book is not just about pretty pictures of vintage bathing suits, it also does a great job telling the history of the swimsuit. And while doing so it also tells the story of female emancipation and how our views of the body has changed over the last century.
Did you know that in the early 1900's there were guards at the beaches who made sure that the women was not revealing too much legs? And that the police could arrest those who broke the rules? There is in fact a very disturbing picture in the book showing just that – a woman being carried away into a police car because she wearing a men's swimming unitard. And it's easy to understand why women protested – the first female bathing suits was in fact so restrictive and elaborate that they caused a few deaths from drowning.
The author has also collected many vintage bathing suits that are displayed throughout the book, it's pretty fascinating to see them all up close.
————————————————————————————–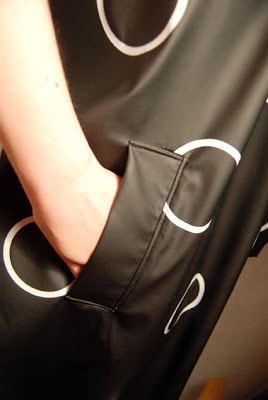 And what do we have here? Well, not a finished raincoat (I wish!). But today I did sew the single welt pockets, as I figured it would be best to do the hardest thing first.