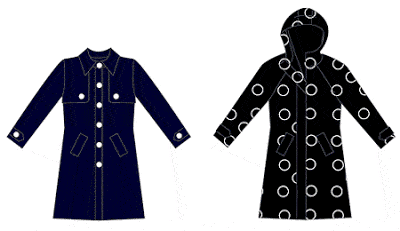 First thing first – thank you all for nice comments about the bag! And secondly, I need a little help. I'm making a raincoat for Pattern review's
pattern making competition
and have sketched out two designs. But I can't decide which one to make – I like them both. My wardrobe, however, doesn't need two raincoats so that's why I'm having a readers poll. Just post which one you think I should choose and the one who gets the most votes will be the one I'll make.
Style A: Blue raincoat. It's inspired by a vintage leather jacket that I own, which in turn has taken it's cue from the classic trenchcoat. I want the coat to have a naval theme and plan to use white snaps or buttons. There will also be a detachable hood under the collar. I'm a little partial to this coat since it already has it's own song.
Style B: Circle coat. This is the quintessential Scandinavian raincoat with a built-in hood. The circle print waterproof fabric is from Stoff och Stil and the jacket is designed with this print in mind.