What is the yuckiest food you know?
Hmm. Tricky. I am not a fussy eater at all, but since I haven't eaten red meat and poultry in over 20 years, I am a bit disgusted by that. But then again, when I ate meat I loved the taste. Apart from that, two things I rather skip are overly boiled carrots and eggs.
Mention five things that you are happy with regarding your career
That I switched from being a librarian to journalism.
That I sent a book proposal to several publishing companies and got a book deal
Starting Floremark
I never got good grades for my writing in school, but now I think I am good writer.
That I really like my job, and still learn new things on a daily basis.
Do you have any regrets in life?
Two biggies. One that I went back to a volatile relationship when I was young. Nothing good came out of that. Secondly, there has been times when I have hurt people due to me being inconsiderate, those situations I really regret.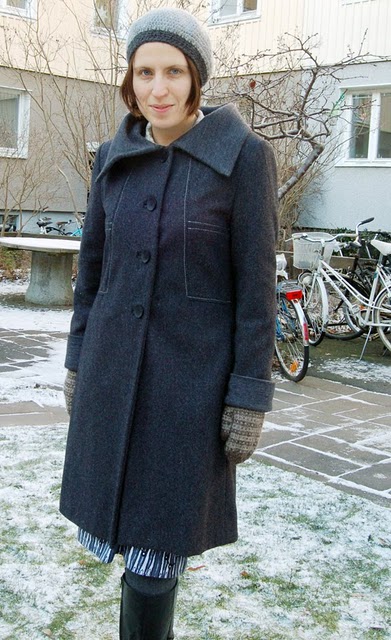 What are you going to wear this winter?
Same old things I suspect. Either knee lengths skirts and dresses with wool stockings and my coveted leather boots. Or jeans with a cardigan and blouse.
Which is your most expensive piece of clothing?
My
Gloverall
duffel coat, which I haven't paid for since it was a hand me down from my mum. But it is getting worn out so that it is soon time to replace it, which will be my biggest purchase unless I decided to make one myself.
Even though my taste runs on the more expensive side, I don't have any pricey designer garments sitting in my wardrobe – just a few home made replicas 🙂 But I do buy a lot of shoes in 1000 krona range ($150 and upwards), since I cannot stand the look and lack of comfort that comes with cheap shoes.
Do you have any secret talents?
One thing that not everyone might know is that I have a near photographic memory when it comes to facts about celebrities 🙂
What did you do last weekend?
Hmm, what did I do? I went to roller derby practice with my eldest daughter, ran for the first time since my race, worked on a sample for the Floremark fall collection, did a music- and moviequiz at a pub on Sunday with some friends. Also I watched almost an entire season of The Apprentice UK.
What are your five most important to-do's this week?
1. Find out why my ordered roller skates has yet to show up. 2. Buy some stuff for an outing tomorrow, where the theme is Joan Jett/rock chick. 3. Get what feels like a billion articles written – I work the weekend too. 4. Try to finish the new Floremark sample. 5. Get at least one strength workout in, my exercise routine has been less than stellar this week. These are clearly plenty of stuff, but I'm home alone all weekend and I'm usually super effective when so.
What are you wearing right now?
Lee jeans, an old
Nanso
pique polo shirt and a cardigan from Newhouse. Rocking preppy chic today!
Last song you listened to?
Some horrible cover of Joni Mitchell's Big Yellow Taxi that was on the radio.
Best beauty trick?
Obviously being happy with your life works wonders. But for a more hands on advice – if you got facial acne don't waste your money on expensive products and facials. Instead start using benzoyl peroxide, it is cheap and extremely effective if you follow the instructions to a tee and let your skin adjust to the treatment gradually.
Which clothes style to you prefer on men?
Mod-inspired clothing, vaugly early sixties. Fitted pants, polo shirts, wolly sweaters and sharp suits.
And ugliest?
Anything from the
Dressman
chain, they excel in bland fashion. Also I have to say baggy
jeans bermuda shorts.
I'm sure they are really comfortable, but when you see 90% of the Swedish male population wearing them, it becomes a bit too much in my book.
What magazines to you read?
I'm a total magazine junkie, I'm constantly trying to quit the habit, as it is expensive, wasteful and not even rewarding at times. But I still keep buying and buying. So here comes a list of some of the regular offenders. Vogue UK, Vogue US, Vanity Fair, Filter (a Swedish reportage magazine), Burda, Elle Sweden, Elle UK, Elle US, Gentlewoman, Bust, Tatler, Sonic (a Swedish music magazine) and plenty more.