This morning I submitted the finished print file to Amazon and now I'm impatiently waiting for their approval (should come within 24 hours). If the file passes their print specifications it means that next week I will be able to release both the digital version and the print book! It feels surreal right now, I've been working so hard this last week, way past bedtime, in order to finish the print version of this book. Since I do some print work in my day job I thought it wouldn't be too hard to convert the book to print, but I vastly underestimated the amount of work involved in making a 184-page long, printable book in full-colour and with a fairly ambitious design. But I did it somehow!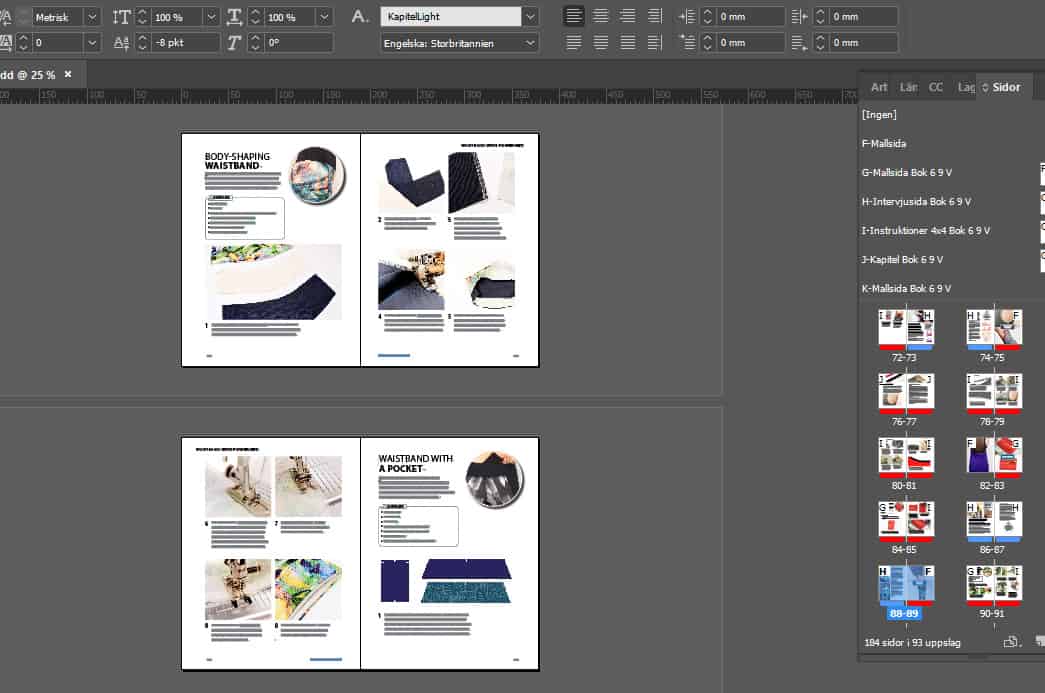 The book workspace. I used Adobe InDesign to format and design the book.
The title will be Sewing Activewear: How to make your own professional-looking athletic wear and here are all the book related details…
Digital book
You will be able to buy and download the ebook straight from my site. It will be an interactive pdf with clickable links and I've put a lot of effort into making it good looking and very book-like but adapted for digital screens. I'm using a third-party service called Gumroad for orders, and they have a super simple payment and delivery system that will be built in on my website, so hopefully, that will work smoothly when you order.
Print book
I'm publishing a paperback book via Amazon's self-publishing service, and it will be sold on all European Amazon sites, US and Canada. And from the Amazon US site, it can be shipped worldwide (and perhaps from the other Amazon stores too).
Also a note on the list price, Amazon sets its own prices according to a complicated algorithm system, so I have no control over the actual price in the Amazon store. Unfortunately, they also don't offer pre-order on self-published books, but hopefully, it will be available sometime the next week on all the above mentioned Amazon sites. The book is printed after you place the order, and from what I'm told, the turn-around-time is rather quick and the quality is good.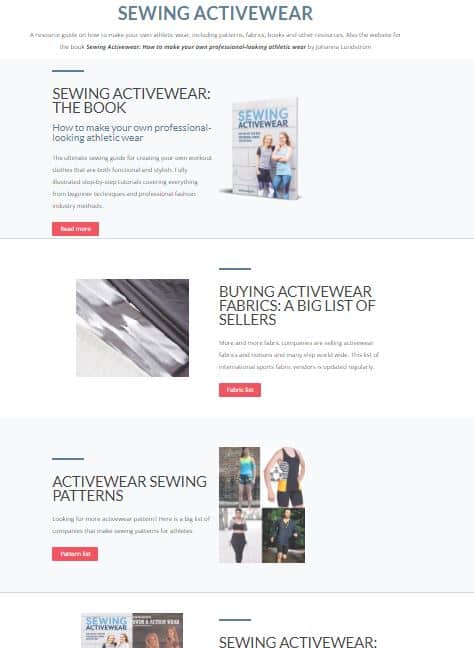 New website about sewing activewear
Both book formats and links to buy will be found on my new website that is also a resource for all things sewing activewear including fabric vendors and pattern companies. The list will be updated regularly and is, of course, open for submissions from you guys, I have already gotten a few new tips on shops and pattern companies that I will put on the lists later this week.
And you can, of course, get a preview of the book as well on the new site.
As for my current state of mind, well I'm a bit frail right now and can't really take in that my book is about to be published. I first announced my book plans in September of 2016 and it has taken me this long for it to actually materialize. The irony is that I already have a few more sewing book ideas, but I will need to take a long break before I can make those happen!