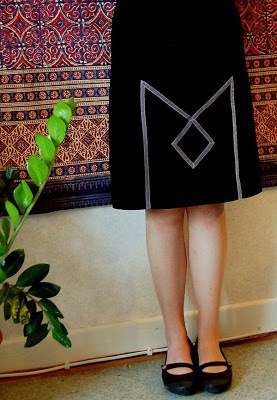 Judging by all the black clothes that I'm currently churning out you wouldn't belive that we have the biggest heatwave in years here in Sweden. But we have, it's hot like a sauna some days, even indoors at night. So perhaps sewing black is my way of chilling out.
This velvet skirt I have named Cornelia and it's in the same spirit as Leslie – i.e. an attempt to translate something vintage into a modern wearable. The inspiration for the skirt are the heavy velvet curtains that was popular during the Art nouveau period. I love the richness and imaginative embellishing of that period, but it can sometimes be a bit too fussy and overadorned. So I wanted to do something that has a turn-of-the-last-century feel, but not as overpowering as a literal design. Although I didn't have a specific image for this project, so this skirt is more of an interpretation of my memories of these curtains. Traditionally these curtains are made in red and gold, but I decided to use a more toned down palette of grey and black.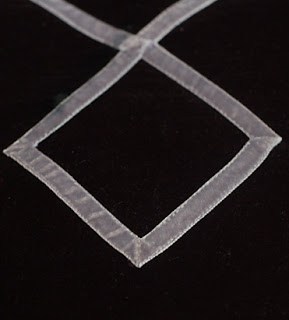 Close-up of the ribbon embellishment.
The skirt is made of cotton velvet and the embellishment is done with a velvet ribbon. I wont lie, the ribbon embellishing was hard, it took me several tries to get it right. In order to make it to stick to the fabric I used a combination of washable glue stick and textile glue, and then machine stitched the ribbon into place. To prevent the fabric from puckering I also interfaced the back with a lightweight knit fusible.
The other tricky part was the zipper. I am looking for a more effective and cleaner looking zipper assembly method so I tried Kathleen Fasanella's tutorial for a centered zipper. Some of her methods might look a little mind boggling at first, at least if you come from the home sewing world. But the result, once you master them, makes a lot of sense and gives very nice looking results. That said it will take me a few more practice rounds before I get this perfect. Her tutorial is for a back seam, but it worked really well for a curved side seam too. The seam lies perfectly flat, no stretching, no bubbles, and I didn't have to use interfacing or any other special tricks to make it that way.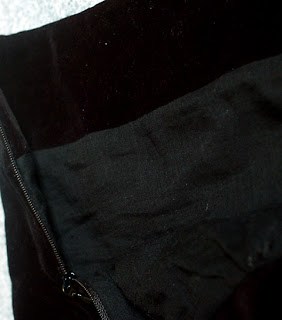 The lining is cotton voile.
I am actually writing this on the road, or on a bus to be more precise. I have been visiting a friend for a few days and luckily the coach offers both wireless internet and an electrical socket so I was able to plug in my laptop. I finished the skirt last weekend but never got the time blogging about it then. Also my summer holiday has finally begun and today was the first day this year that I was able to swim in the ocean (in my new bathing suit). And even though I nearly suffered a heart failure from the cold water, it was still a fantastic experience.
Edit: Sorry for all the typos in the original post, I think I have fixed most of them now. Writing and riding a bus is clearly not a combo that works for me.