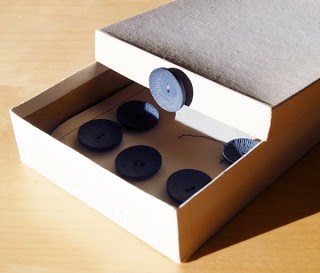 This morning I traveled by bus to the other side of town in an ungodly hour only to find out that the supplier did in fact not have any more unbleached organic cotton jersey. Instead it turned out that what they had labeled as single jersey was in fact a cotton interlock. A nuance that is lost on everyone outside the fabric world I am sure, but the difference is substantial. You would have thought that one of the biggest Swedish fabric supplier should be able to tell the difference, but apparently not! Though the sales assistant was a little embarrassed when she noticed the mistake. Anyhow no more fabric available of the kind that I want, so I spent the bus ride to work calling suppliers with dismal result. But I think I might have a lead now. Just need to check out the swatches.
Anyhow, I needed some retail therapy after that, and since the mall near work is kinda boring, during lunch I ventured to the "secret place" which is a store that sells fabric and notions from the 60's and early 70's. The shop is really old and they must have bought a lot back in the days, because the store owner never seems to run out of things. Here you can see a photo from the bustling interiors. I came back with some lovely buttons from the 60's that will surely find a happy home in my growing button stash.
By the way, is it just me, or have buttons gotten more and more boring? While I was waiting at the supplier I checked out their button section and didn't find anything that I wanted. While at the "secret place" almost all the vintage buttons are really desirable. In fact I buy almost only vintage buttons these days (and some from Ebay), because the new ones are often both boring and really expensive.