I've finally launched my new book Master the Coverstitch Machine: The complete coverstitch sewing guide. It's been over 10 months since I first started working on this book, and it still feels a bit surreal that's it's actually out now! In fact, some folks here in Europe already got the pre-ordered print books last week.
And so far the response has been amazing! I've gotten so many wonderful messages from fellow sewists in the last few days about how helpful and thorough the book is, and how it has boosted their coverstitch confidence! That makes my heart melt <3
You can read more and order the book here.
And if you have already gotten the book, and would like to write a review on Amazon or such, I would be forever grateful!
I have also gotten quite a few questions, so here is a book FAQ
I don't own a coverstitch yet. Will the book still be useful?
100%! In fact, I wish I had something like this book available when I bought my first machine 15 years ago. This book will help you make a very informed purchase, and the first section in the book is actually a buyer's guide where I describe all the different types of machines out there and what you need to consider before taking the plunge. Also, the tutorials in the second half of the book will help you decide on what type of machine you want (for instance a 2-needle vs a 3-needle).
I'm a more experienced coverstitch user. Is there something in the book for me?
There could be! The book moves from beginner to more advanced, RTW-inspired, techniques. So if that's your jam, I think you'll find useful information in the book. Plus, it's always good to brush up on the foundation stuff too from time to time, and there is a lot of information on things like thread, needles, settings and even a section about industrial coverstitching. That said, if you are an experienced/advanced coverstitch user you have probably already figured out the techniques I describe in this book.
I have an XYZ brand coverstitch machine, will the content in the book be useful?
Yes! This book is not done for a particular coverstitch brand, the content is applicable to every coverstitch machine out there. Because apart from threading and an occasional extra settings knob, all coverstitch machines work the same and the tutorials I show in the book can be done on pretty much any coverstitch machine.
I do have some tutorials that use attachments, but I consciously picked attachments that are readily available for several brands and models, such as binder attachments. So that you can use the book, regardless of the machine.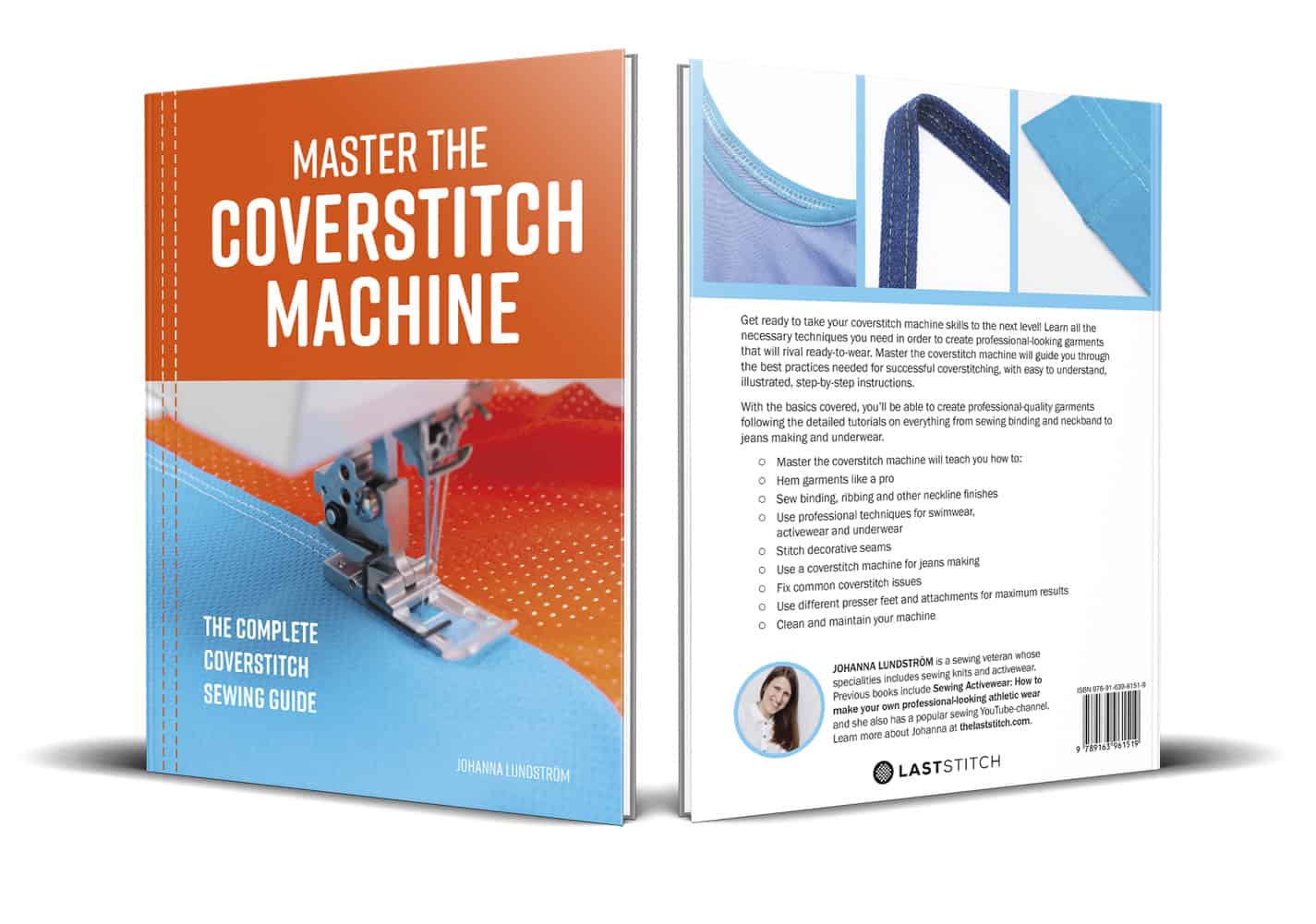 What formats do you offer?
I have two versions:
A digital ebook: In pdf-format with clickable cross-references, table of content and index. This book can be read on pretty much any device.
A print book in paperback: It can be ordered through Amazon, Barnes & Noble and hopefully other online sellers too.
You'll find links to both formats here.
Can I get the print book in my country?
Check your local on-line book stores! More and more on-line book sellers around the world have begun selling my book, such as Amazon, Book Depository, Adlibris (Sweden), Barnes & Nobles and I'm sure there are plenty more shops too.
What does local VAT mean?
It means that sometimes local VAT is added when purchasing the book. For instance, the EU now has an internal digital goods tax that caused quite an uproar in the sewing community when it happened, since it hits things like pdf-patterns and ebooks. I use a service called Gumroad for my patterns and ebook, and they add VAT when applicable depending on your location.
I have no power over this, I just want to follow the rules and avoid going to jail for tax evasion! The money is automatically transferred to the local ruling authority by Gumroad so that I don't have to deal with the tax issue (again I'm very afraid of getting the taxes wrong, at least the Swedish authorities are super diligent with this stuff!).
Why no Kindle ebook?
Because Kindle thinks I have too many photos! Yes, sad but true. The current standard flowing Kindle format doesn't support a picture heavy book, and my book has a very specific illustrated step-by-step layout. And also the book file is too big for them to distribute.
Plus I want you guys to have the full book experience, regardless of format, hence why my ebook is in pdf-format instead.
Can I buy the print book directly from you?
No, everything print book related is done via printers and distribution locations around the world. I even have to order my own copies from the UK. And if I would send out books from my (tiny) apartment in Sweden, the shipping cost would be huge, because international shipping from Sweden is crazy expensive, and trackable shipping would cost even more than the actual book.
Much better to rely on companies such as Amazon, who have a streamlined system with lower shipping costs for you guys.
Will you translate the book to Swedish (or any other languages)?
A Swedish version is on my someday list since it's a pretty popular machine here and it would be fun to do a book in my own langue. But it will not happen in the foreseeable future since I have another sewing book
I want to write first (if you are a Patreon supporter and listen to my podcast, you know about my book plans :-))
As for other languages, my hope is that publishers would get in contact with me, so I could do a licensing translation deal, for instance with a German publisher. Fingers crossed!
Hope I managed to answer all your questions! And here is more info on the actual content: Master the Coverstitch Machine