Number of times I have signed up for a half marathon. Three. Number of times I have actually ran a half marathon. One.
Yes that is my less stellar track record when it comes to long distance running races. Not because I sign up and then forget to train. Instead the reason is something that has plagued me regularly since I turned 40 – injuries. I feel tempted to list them all here, but feel like I would just sound like a grumpy ol' lady.
As it happens, the city where I live in has the world's biggest half marathon and it is almost like a rite of passage or a pipe dream for many who lives here to do the race at least once. I was one of those people, hence why signed up in 2013 to do the race. Of course that race didn't happen due to an injury. But in 2014 due to luck and extensive rehab I was able to handle a big training load without any mishaps (I was training for a 120K bike race at same time).
Super stoked before my seeding race.
During that spring I was so focused on the task and even did a 10K seeding race to get into a better start group. I finished that race in 52 minutes which was my fastest 10K race time ever and was also thrilled to see that my estimated half marathon time would be around 2h 05 minutes.
Well I never managed to get that time, but I still had an absolute blast running the half marathon. I mostly put this down to the fact that I was well prepared. For almost six months I had ran 3 times a week, very gradually increasing the speed and distance to avoid any new injuries. I also did strength training, pilates and yoga. Plus the biking. Looking back I must have spent all my free time training during the spring of 2014 – I think I averaged on about 10 hours training each week.
All that prep work paid off big time on race day. I decided to start slow, increasing slightly after the first few kilometers and then kept a steady pace at around 6 min/km all through the race and I felt truly excellent. Looking back at the stats I managed to stay on the plan until I had 2 kilometers left. Then my feet starting to cramp bad, I had to stop and stretch them out, and as soon as one foot was sorted the other began cramping. So for the last kilometers my pace were more in 7 min/km range – not the strong finish I had hoped for. But at least I wasn't trashed when I reached the finish line. Total running time was 2 hours and 14 minutes. Which I was really happy about all things considered. Plus the crowd was amazing, this race is a huge deal in my hometown so there are tons of people cheering you on all through the race.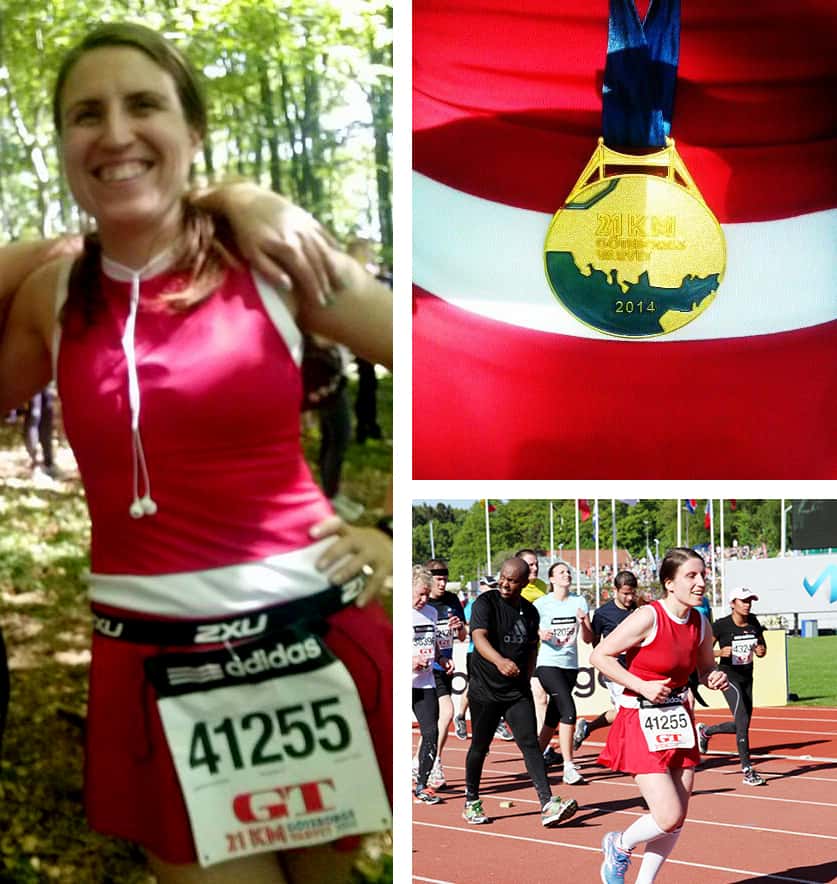 Fully kitted in my running dress that I made myself. I wanted to make it a little tongue in cheek, vaguely resembling a cheerleader uniform, Underneath is a pair of matching shorts with pockets. Unfortunately this outfit is no more, since a plastic bag mixup happened and it was accidentally thrown away. I loved running in a dress BTW and will totally make more in the future.
So that was my half marathon experience. I had planned to run it again this year, but alas another injury happened (an inflamed foot/calf muscle) so my competing stats for this year has been zero.