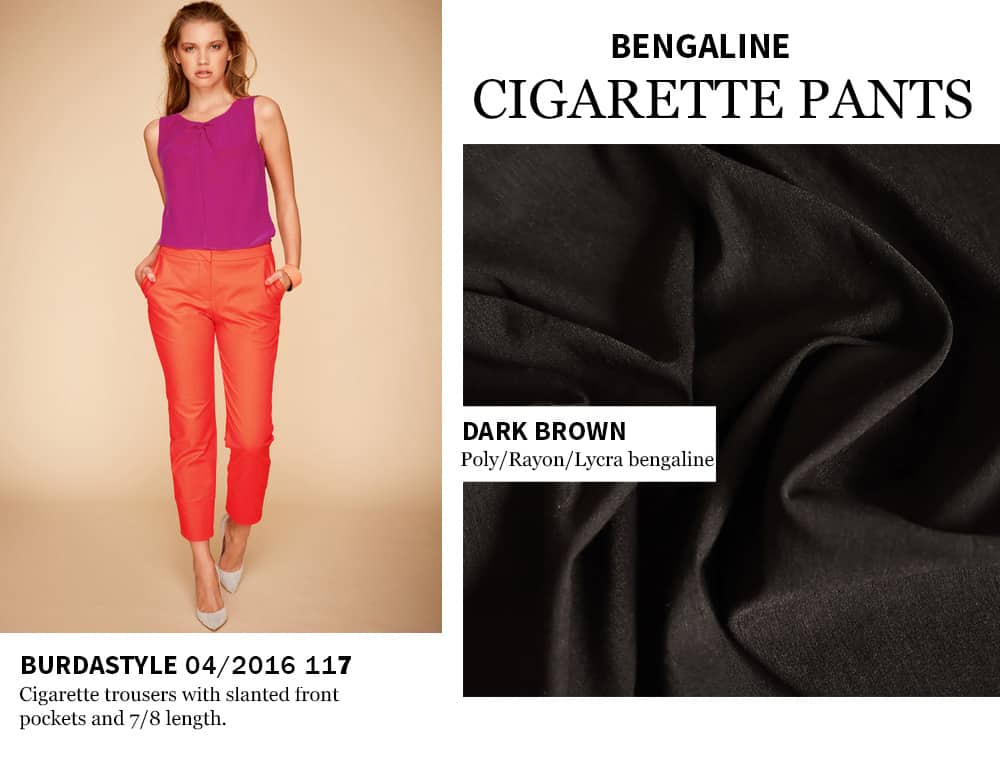 It's time for the last garment in my Spring Stash Buster Wardrobe! Once I'm done I will share all the garments of course, so stay tuned for that. Hopefully I won't trip on the finishing line, now that I'm tackling my second trouser project of 2017. Yes I'm on a roll! Hopefully, I will sort out my last few pants fitting kinks with this pair.
When I was pregnant with my second child (almost 16 years ago) I bought a pair of bengaline cigarette maternity trousers that I loved so much that I kept wearing them long after the birth of my child (my tummy was still big enough to fill them up and they also had adjustable elastic in the waist). I've been meaning to recreate them since then, but never got around to it. But now that my trouser making confidence has slowly returned, I feel confident I can make these and not hate the result. And this Burdastyle pattern is from April issue of 2016 looks quite similar to those maternity trousers.
Bengaline is an excellent fabric for trousers I think. It keeps it shapes, is flattering to the body and has so much stretch that the trousers never feels too tight. Plus no ironing which is a nice bonus!
I had originally planned to use a black fabric, but when I saw this dark brown version I felt that it would be more interesting than just basic black. Bengaline is a funny fabric by the way, as it has the most stretch lengthwise, so I always have to rack my brain figuring out how much fabric I will need. Luckily me and the seller came to the conclusion that I could actually do with less than my regular amount when cutting the trousers on the crosswise direction. Interesting!
So this is my last piece in the collection. Wish me luck as I embark on another pants making adventure.