Sorry for the radio silence, internet in our neighborhood went bust last week and our ISP is clearly incapable of fixing it in a timely manner. So today I went to work extra early to publish a blogpost before the work day begin.
So what to do when you suddenly don't have internet to spend your days away with? Well mostly I have been annoyed, but I have also taken up embroidery. I bought this amazing soft wool rib knit fabric a few weeks ago but didn't quite know what do with it. But then I had what I thought was a stroke of genius – I could embroider it with a cross-stitch motif. The reality of the plan was however much more grueling, doing cross-stitches on a super stretchy knit is no picnic. I used one of those removable embroidery grids that I picked up in a charity shop a while ago, but those strands proved to be really hard to remove.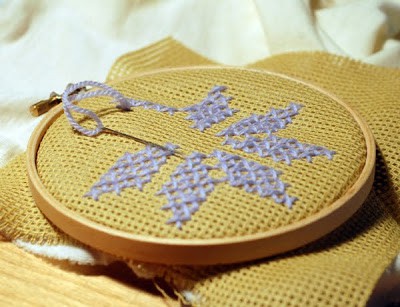 For the embroidery I used regular knitting wool yarn that I had in my stash.
You know I have this image of embroidery as being a very relaxing craft, but I almost got RSI from just doing these two stars and removing the grid. The second star was a little easier though, so maybe it's an adjustment thing?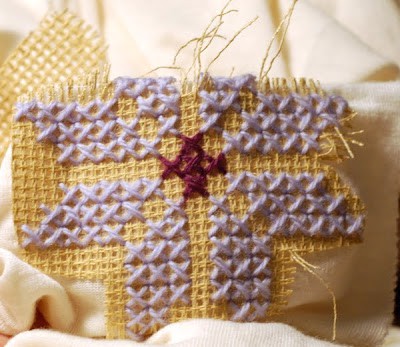 Maybe I should have bought a better, less tight, grid weave?
Love the scarf though, having this kind of crafted details does add a certain something to the scarf. And the end result shows that it's totally doable to embroider knit this way, though it won't look as exact and symmetrical as on woven fabrics.
The scarf is just a rectangle that I sewed together and turned inside out.