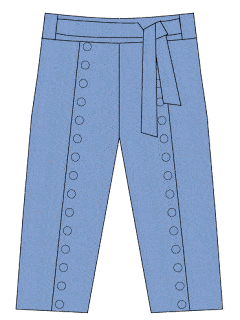 The pants I plan to make.
So it's the first week of March which marks the start of Clevergirl's pant sew-along (where you also can see links to the other participants). As I've blogged about before, I'm planning to make a pair of fully buttoned cropped pants. They are a copy of a pair that I found in an Anthropologie store when I visited NYC back in 2004. They have been on my mind since then, but I've been waiting for both the right fabric and a new sewing machine, since my beloved Husqvarna/Viking from the late 60's makes terrible buttonholes.
Now both things are in place: Last year I won a wonderful pale blue rayon/linen/lycra fabric when I placed in the Timmel swap and I recently bought a used Bernina 1230 that makes pretty good buttonholes.

I will draft my own pattern, using a trouser block that I made in a pattern making class and a Mrs Stylebook instruction for the cropped pant adaption.
There are some additional details to figure out, especially around the waist, which is why I did a drawing of the pants. Also we are moving in two weeks and have not packed a thing yet, so some slight chaos might ensue, but I still feel optimistic that I'll be able to finish the pants by the end of March.