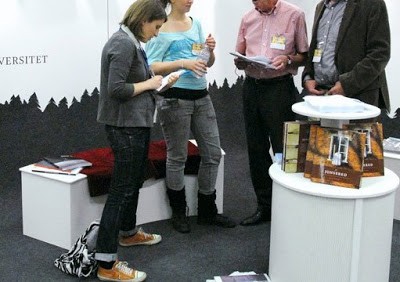 I don't think I have done any blog quizzes before, so I nicked this one from a Swedish blog (BTW, the pic above is of me doing an interview at the Swedish book fair a few years back, as always my short stature becomes a lot more apparent when I am around other folks).
Stretch out your left arm, what do you touch?
My black work phone (yes I am currently doing this quiz at work, bad bad me). The phone is an invaluable work tool, a lot of interviews are conducted over it, actually being a reporter is pretty much a desk job. Before I became a journalist I used to have "telephone anxiety" but calling people all day has made those jitters pretty much disappear.
What was the last thing you saw on TV?
A Seinfeld rerun late last night. I seem to never tire of that show.
Apart from the computer, what do you hear right now?
Baby babble coming from the son of colleague. My work mate is currently on paternal leave but visiting his regular workplace today – I guess he can't keep away from us!
When was you outside and what did you do?
This morning, when I was biking to work. After not biking for several years I am currently on a roll.
What are you wearing?
The red Ecco shoes
My Burdastyle jeans
My Olga top
An old blue cardigan from Newhouse
Did you dream something last night?
A dream I remember is one where I said to a colleague that Swedish radio personality/comedian Annika Lantz and artist Marianne Lindberg De Geer are great feminist role models, because they are not afraid at questioning male hierarchies and speaking up on these issues in a really intelligent and often funny way, plus they have both became really successful in male dominated fields. But in the dream I got a kinda weird reaction from my colleague which surprised me since she is a massive fan of Annika Lantz.
When did you last laugh?
I laughed out loud several times yesterday at work, I am blessed with really funny work mates.
What are on the walls around the you?
Loads of xeroxed photos of my kids and boyfriend.
Have you seen something weird lately?
On my way to work in the mornings I often see a man in his 70's jogging slowly. During the winters he runs in jeans and a shirt, and as soon as it gets a little warmer he runs bare chested. He looks rather eccentric, with a mop of grey hair growing in all kinds of directions, and I am curious about his life story.
What was the last movie you saw?
Avatar 3D – I thought it was pretty great.
If you became a millionaire what would you buy?
A large stately early 20th century apartment, in the central parts of my hometown.
Tell us about something people do not know about you?
I used to have a very vivid imagination well into my 20's and I often pretended that I lived in a SciFi world. But somehow that kind of fantasies has become much less frequent, and I miss them.
Would you ever consider living abroad?
I would love to do that. My current dream is that after my boyfriend and I retires we will sublet our apartment and move to New York for six months. Preferably Brooklyn/Williamsburg, I have been to New York twice and it is my favorite place in the world. My heart starts racing just thinking about going there again.