After a warm late August, fall is kinda in the air here in Sweden, with colder mornings and more rain! But it's also a very nice season and often the start of new exciting things. So let's take a look at what's currently going on in my sewing life:
Book progress
Thank you for everyone's support and well wishes on my Sewing Activewear book project! It really encourages me to get this book finished in a timely manner. Writing a book on the side, when having a day job and all the rest, means looking for a lot of time pockets in the day. Currently, I rise one hour earlier each weekday morning to get my daily writing and editing done. And then do a photos session every other Saturday. Slow and steady wins the race when we don't have the bandwidth go all in on a project. Plus I've learned to streamline the rest of my life and remove some time sucks, which I think will be beneficial when the project is over too.
And while this is my first self-published book, I do have several published books under my belt because when the World Wide Web was a cool new thing (those were the days, heh!), I wrote Internet guide books for a big publishing company. Plus the fact that I've spent almost 20 years in the media and communication field has helped me to hone my workflow skills. Still, it's a lot of work for sure, especially as I'm doing it all myself this time.  But also very rewarding.
I'm also really happy that I've been sharing this project with you from the start. First of all, you guys have given me some great topic suggestions that are now part of the book. And secondly being open about a project also adds a layer of accountability, which in my case helps a lot when it comes to the motivation. So yes, I think it can be beneficial to be open about one's process, even though there might not be any tangible results to show at first.
If you want updates on my book, you can sign up for email book updates 
Also, if you want to get monthly previews of my book you can become a Patreon supporter.  September's book tutorials are up for all you awesome supporters!
The August issue of Burdastyle


Can we talk about how amazing the August Burdastyle issue is? Page upon page is filled with stylish designs, that is classic, well drafted and with subtle detailings that make them stand out, i.e. the sort of clothes that I gravitate to the most. After dressing like a slob for a week due to me not having the time to neither iron my makes or do my laundry, I realised that I currently prefer a more dressed up look and I could see myself pretty much make every piece from this Burdastyle issue.

Look at all the interesting darts on this dress! Perfection.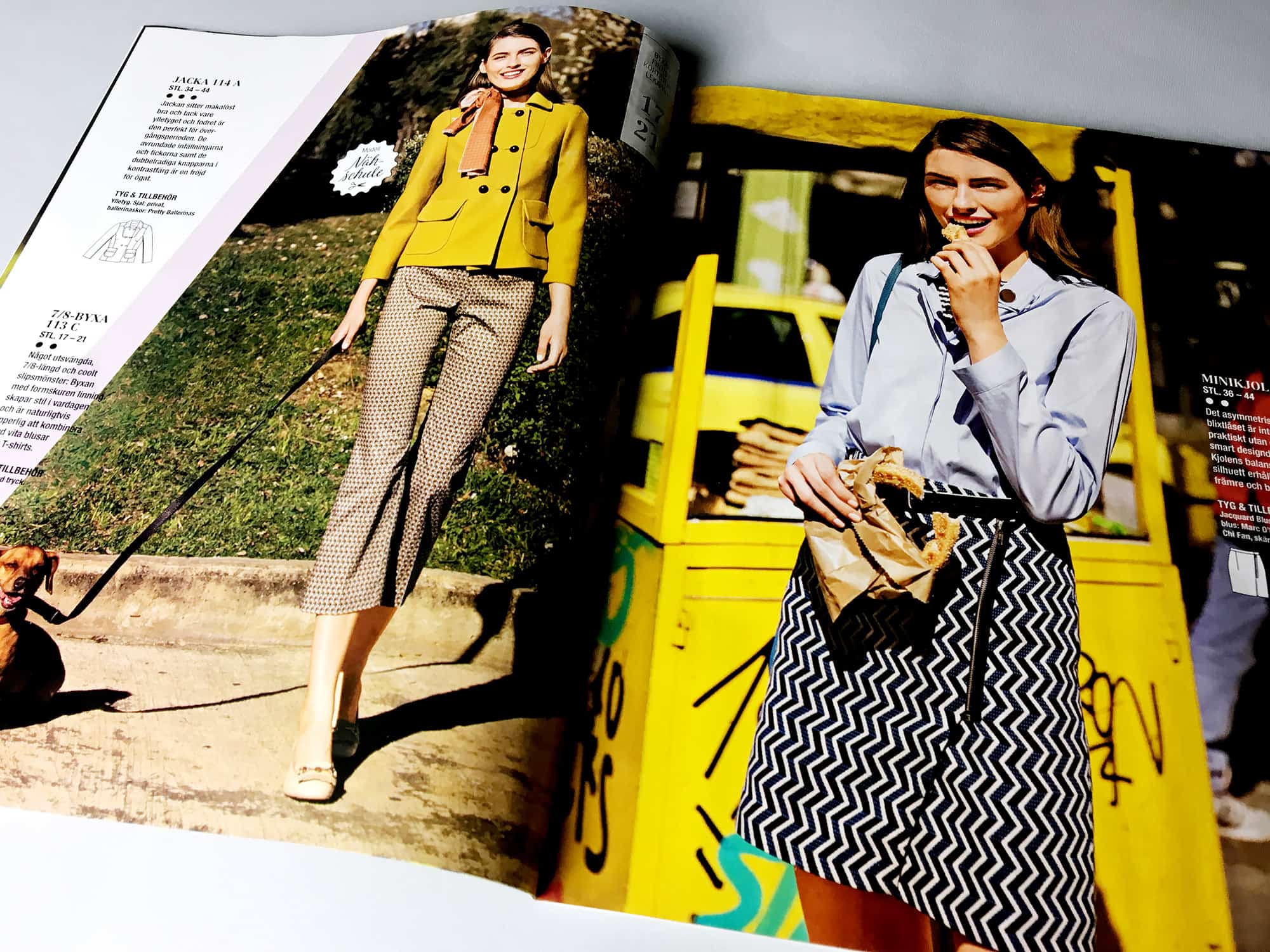 This jacket is like my dream jacket – I love it so much and can't wait to make it in the future!
Making leggings and trying out a new presser foot

Here are close-ups on my latest leggings, using my custom print Spoonflower fabric. The curved seams are stitched down using my Janome Coverpro coverstitch machine. It took me like five tries before I was happy with the result! Coverstitching curvy seams on tricky fabrics is not an easy feat, but I recently bought the center guide foot and that made the task a little easier.

The Janome Coverpro center guide foot. You can adjust the blade a bit, but I wish I could adjust it more. I haven't tried for stitching over a center seam yet though, which I suppose it's the main purpose. But a great purchase nevertheless.
So this was a little run-down of what's going on in my sewing life. Though not much actual sewing going on this week, due to all my other outputs. But hopefully, I will get started on my workout top this weekend!