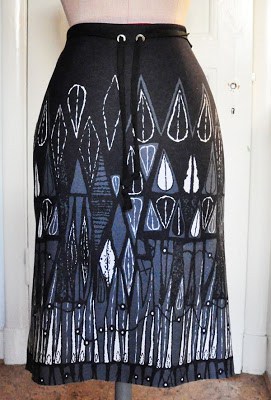 Right now it's just some fabric and ties pinned to a dress form, but it's a start anyway. I plan to make a drawstring skirt out of the Maud Fredin Fredholm fabric that I purchased two weeks ago. I am a sucker for skirts in knit fabrics, I have done about half a dozen over the years in everything from printed rayon jersey to heavy wook knits. The knit skirts are the ones I tend to reach for in the mornings – you know easy-care (no ironing) and comfort. I can be such a granny sometimes. Though I have yet to embrace the whole navy polyester double knit look!
The skirt will also have pockets, a partly elasizised waist and be all around super practical and comfortable.
Also I have started a Facebook fan page for my line if you want to join.
FB.init("65ee7464efdc404e41bb1448dadf3636");