When I get into something, I tend to repeat it over and over. Hence the stripes and now the cross-stitching. My first attempt using cross-stitches on knits was successful enough to make it worth a second attempt. This time I used fusible interfacing underneath so it was much easier to get an even result. And I switched to another scrim weave which made it a little easier to remove the strands.
The pattern is based on a design from an 50's embroidery book that I got from my mum. The book is packed with wonderful designs, that actually feels more up-to-date and current than the patterns in most modern embroidery books. Though Sublime Stitching does great new stuff. The fabric I used for the skirt is a mid-weight rayon/lycra jersey
I know I said I would do more colourful stuff, and this skirt doesn't quite fit that description. But I did do a colourful outfit shot – straight from our kitchen!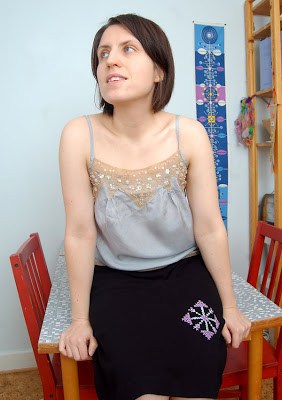 Top: La Redoute, bought many years ago.