Basting hair canvas to a suit collar.
How I became an Apprentice to a Tailor
The only hand sewing you'll normally find me doing is attaching buttons, and even that is something I sometimes do on the machine. But today I found myself going totally outside my comfort zone. When I visited the Chanel exhibition earlier this week I saw a sign about tailoring workshops this weekend. I missed out on Saturday but today I took the tram downtown. Two workshops were offered, one on how to attach hair canvas by hand to a suit collar (while at the same time shaping the collar) and the second was how to make hand sewn buttonholes.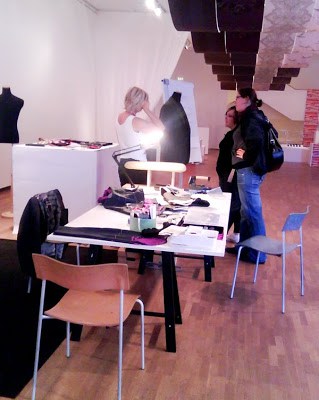 The make shift tailor studio at the museum.
Luckily for me I was the only student – while a lot of people stopped by at the tailor and wanted to talk about the garments, they all fled when she suggested that they should sit down and try for themselves. In fact I was so alone there at the table that some people mistook me for the tailor and asked me all kinds of questions, and one women even suggested that I should hem her sleeve that had come loose!
The collar shaping was really cool – and time consuming. It even took the tailor an hour to baste both collars. And then she got loads of other hand sewing to do.
Inside a jacket with canvas interfacing. Click on the image to see all the little seams.
Inside a jacket with iron on interfacing. This jacket is several $100 cheaper.
Her jackets were amazing, yes the one with sew on interfacing cost about $1000, but after my inside glimpse of her work process, I can safely say that they are totally worth it.
The three layers of a tailored jacket collar.
Sorry that some pictures are a little blurry, I used my cell phone and you need to hold it completely still to get sharp images.
She was really encouraging about my basting technique, she even said it was the best first attempt she had ever seen, and I was like "you gotta be kidding me!". She was however decidedly underwhelmed by the first row of my hand sewed buttonhole "you know it shouldn't look like cement".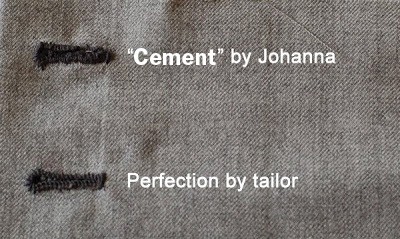 The second row fared a little better, but then she told me "you need to do 100 buttonholes to fully perfect them" and suggested I'd do another one straight away (the first buttonhole took me approx. 45 min). Oh well. I declined her suggestion politely, didn't want to risk a hand stitching burnout.
All in all I really enjoyed the experience, I learned tons of stuff in just two hours and also got to ask her many questions about tailoring. It's such a special craft!