I have finally given my Bernina walking foot a bit of a test run. Here is a mini review of my results:
Overall impression
Very sturdy, not flimsy and also surprisingly quiet. It sews at a slightly slower pace than a regular presser foot, which takes a little getting used too, since I am usually a full throttle kind of seamster. But it is not super slow by any means, so it is not a real issue.
Sewing striped knits
I do this a lot and sometimes I need to do things that a serger can't. And a regular presser foot will push the top layer forward so it is really hard to get a nice even result, i.e. the stripes won't align. Well the walking foot made a big difference on all my test samples! Even when I sewed a stretchy striped knit on the bias the stripes aligned pretty well.
Sewing on vinyl
The regular Bernina presser foot does a pretty good job with vinyl, but the walking foot made it even smoother and the stitches got more even. So again, success.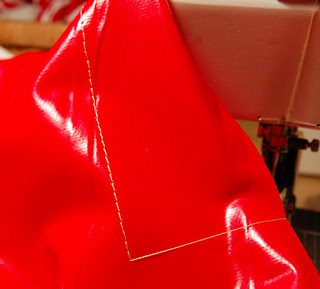 Top stitching jersey
I also tried top stitching a facing onto regular t-shirt jersey (non-lycra). With a regular presser foot the fabric would stretch out horrible (unless I interfaced the facing) but with the walking foot it didn't stretch out the fabric at all, which was very impressive!
Top stitching rayon/lycra
A nightmare to top stitch on a regular machine, there will be bubbles and skipped stitches. Well the walking foot didn't do a better job than a regular presser foot, unfortunately. I am gonna stick to cover stitching.
Sewing slinky satin
Again the walking foot didn't exactly excel, the fabric still slipped, but it was a little bit easier than with a regular foot.
I didn't have any velvet in my stash, so I can't give my verdict on that. But from the trials that I have done so far, the walking foot deliver very well in most cases. So I am happy with my purchase!