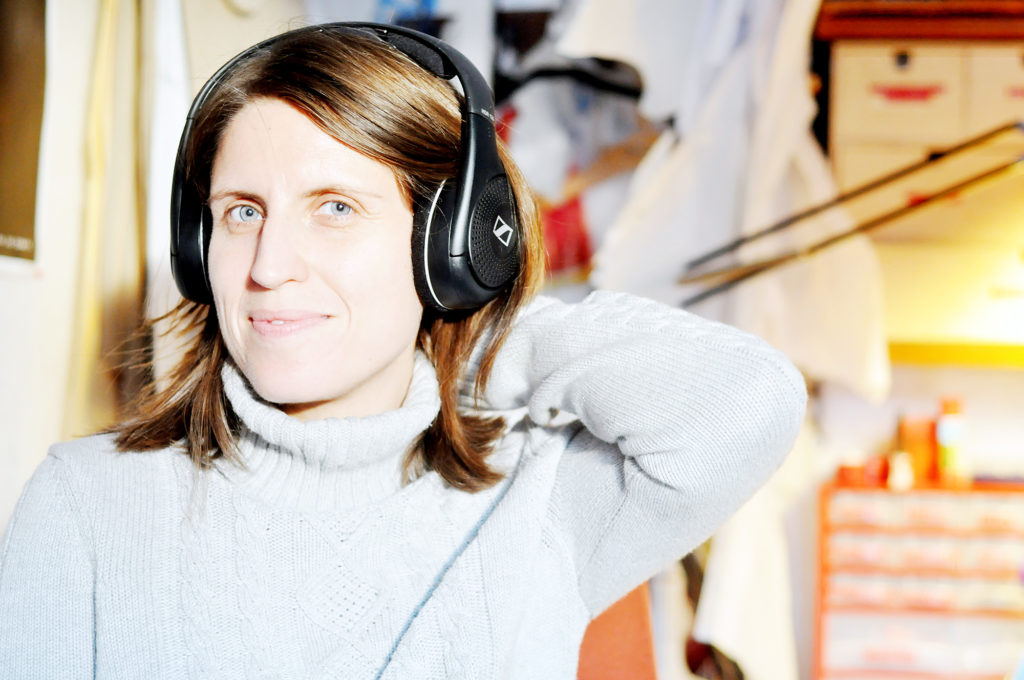 Let's talk sewing podcasts! Personally, I love them and also I love that there are so many crafty podcasts out there these days. I find hearing other people talking about their crafts really inspiring and makes me want do stuff even more. Plus it's super interesting to get a behind-the-scenes look of the crafty world and the personalities that populate it. So I've compiled a list of crafty podcasts.
What a fun podcast for us sewing super nerds! Hosted by a mother and daughter team they chat and banter about all things sewing related. This podcast is full of helpful tips and tricks,  with lots of machine talk (they used to run a sewing machine shop and are very big on Babylocks). They are strong in their opinions, but I find myself agreeing with a lot of the stuff they say.  If you want to become sewing smarter in just 30 minutes, this is the podcast for you.
By Canadian sewing entrepreneurs Helen Wilkinson from Helen's Closet and Caroline Somos of Black Bird Fabrics. They do both interviews with various sewing profiles and make episodes around different sewing topics. The episode about perfection and sewing offered a lot of food for thought and I liked how they integrated voices from the listeners into the discussion. Great sound quality and a professional delivery right from the get-go, I really like this podcast and the hosts. There are in fact a lot Canadians doing sewing podcasts and what I will say now might sound a bit odd, but as a Swede, I can really resonate and connect with the tonality of those Canadian hosts. Perhaps it's because we are both surrounded by cold weather and conifer!
A podcast by Candian sewing enthusiast and blogger Rachel from Maker Style. The content is primarily geared towards the clothes sewing community (yay!) and includes interviews with prolific sewing folks mixed with episodes containing helpful sewing tips and other cool stuff. Also some sewing business talk.
A somewhat irregular podcast hosted by sewists Lori Beckstead and Helena Ashbridge. Mixes interviews with prolific sewists with themed chats about sewing things. The format is really professional with good sound quality and they also has some nice listener interactions features. I highly recommend the interview with Madame Tifaine about her year-long-ready-to-wear-fast.
This podcast features interviews with people from various creative pursuits, including garment sewing. In the archive, there are interviews with both prolific sewists and indie pattern designers, including Peter Lappin from Male Bold Patterns, True Bias and Cashmerette. The interviews are through so a great way to learn more about the people and brands we encounter.
A sewing podcast that is really geared towards us who loves to make clothes. Journalist Christine Cyr Clisset interviews profiles in the sewing arena, such as Sarai Mitnick of Colette Patterns fame and sewing gurus like Claire Shaeffer and Angela Kane. Christine Cyr Clisset's own sewing passion really shines through in the interviews, and the conversation style is very informal, like two friends chatting almost. Currently not updated much.
Another crafty podcast entirely dedicated to sewing! From Colette Patterns headquarter, this podcast has an interesting angle as it approaches sewing from a transformative point of view where the guests share how sewing has shaped their life story. A lot of famous sewing community folks are interviewed and Colette founder Sarai Mitnick is the host. She has a great narrative voice, but this podcast doesn't use the traditional interview format. Instead, it's more of a guided monologue with the interviewee, intercepted with post-recorded comments by Sarai. Currently not updated much.
The first ever crafty podcast and I've been listening to it since its inception in 2006. In fact this was the first podcast I ever listened to! Made by the journalist Jennifer Ackerman-Haywood, every episode features a long in-depth interview with a crafter. The audio quality isn't always great, especially in the older episodes, but that comes with being a trailblazer!
I really enjoy this crafty podcast because Abby Glassenberg is such a great interviewer that is not afraid to ask some prodding questions and doesn't shy away from "touchy" topics like money and the more challenging sides to running crafty businesses. She isn't as prone to gushing and saying things like "that's fantastic" or "I love that" frequently, as some other podcast hosts have a habit of, and I appreciate that.  
A weekly livestream about all things sewing. Each week features a guest from the sewing community that is interviewed by the hosts Dawn and Althea. Not technically a podcast as it livestreams on Crowdcast each Tuesday at 7:30 EST US time and then is uploaded to Youtube afterwards. But it has everything else you want, plus the livestream format allows for viewers interaction such as asking questions in the chat room and even showing up on the screen if you like. A very clever format and something I think will grow in the future.
This podcast has been going since 2014, but is a new discovery for me. I've only listened to a few episodes so far, but it might end up in my regular circulation. Very quilt focused, but there are also interviews with sewing bloggers and clothes pattern designers.
A fairly new podcast by knitting profile Vicky Howell. I really like her interview style, it's frank and to the point. I also appreciate that she gives her interview subjects room, even though she is a big crafty profile herself and I think it could be tempting to relate a lot of experiences to yourself when interviewing colleagues in the field.
A Swedish sewing podcast that two of my online sewing mates have started. Sy och sprätta means Sew and rip in English. Will be all about garment sewing!