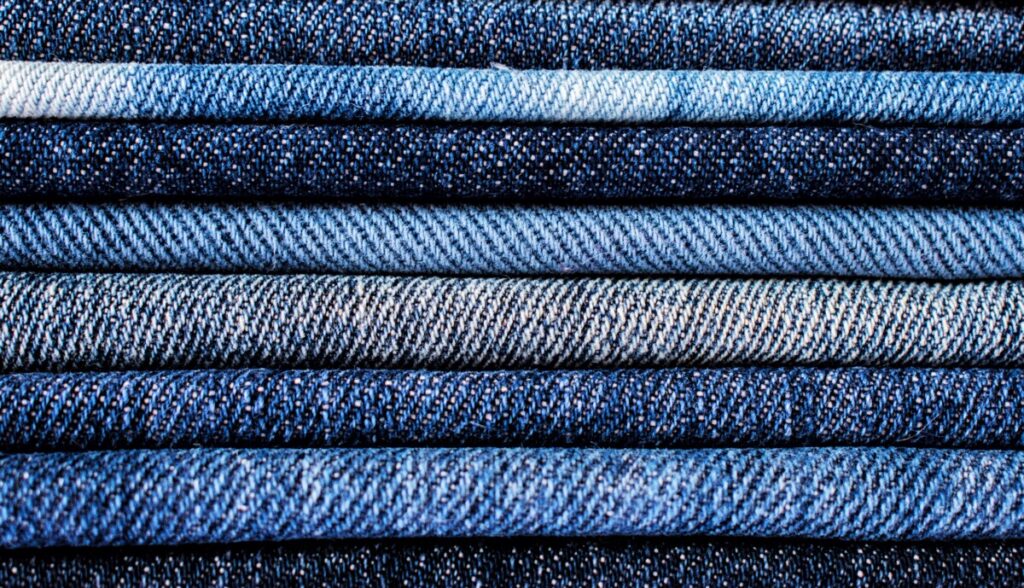 Looking for shops that sell denim fabrics for sewing your own jeans? To make the search easier I've compiled an international list of fabric shops that stocks a varied selection of denim fabric. Many of these shops also sell notions and tools for making jeans.
Note that this list is far from complete, it's more like a start. If you have other suggestions on shops around the world that stocks denim fabrics, drop me a note in the comment section, so that we can create the most extensive denim fabric list on the Internet together!
This list is part of the resource companion for my book Sewing Jeans, where you'll learn how to sew your own jeans from start to finish. The book also an entire chapter dedicated fabrics and how to pick the right denim for your project.
A majority of the shops listed here ship internationally.
Europe
UK
Cloth House Studio
Stocks a nice range from classic indigo jeans denim to soft coloured denims, washed denim fabric and selvedge denim.
Merchant & Mills
Good selection of denim fabrics, including some japanese denim, plus a few organic and recycled denim fabrics too. They also sell jeans notions and tools.
Croft Mill
Solid range of denim, such as broken twill, washed denim and several stretch denims in different weights and textures.
Fabric Godmother
Sells denim fabrics in several different weights and blends, including some designer denim. Also has a dedicated section to jeans sewing notions.
Stocks both regular and stretch denim, including some stretch denim in fun colours.
The Denim Company
Specialises in navy blue fabrics, including denim. Also sells lots of jeans sewing notions.
Minerva Fabrics
Large range of denim and denim style fabrics, including some heavy weight denim.
Empress Mills
A fairly broad range of different types of denim fabric
Good range of denim fabrics in different including some really gorgeous embroidered versions and denim-look jersey.
Ireland
Dress Fabrics
Nice selection of denim in several weights, including several stretch denim options with different washes.
Germany
Stoff Kontor
Sells denim fabrics in several washes and colours, including a large range of stretch denim fabrics.
Stoffe Hemmers
Has denim fabrics in several different washes and textures, including a solid range of stretch denim.
Slanta Stoffe
Sells stretch and regular denim, including printed and embroidered designs.
Scandinavia
Stoff & Stil
Sells denim in several different washes and weights. A lot of the denim from Stoff and Stil tends to be on the lighter side though, so order a sample to make sure the fabric suits your project.
Sonjas Eko Textil
Specialises in eco-friendlier fabrics, including denim in a few different weights.
Rekotex
Sells a large range of surplus designer denim, including organic fabrics. Mostly geared towards the fashion industry though, with big minimums.
Update: Rekotex now have a shop for regular consumers too where you can shop fabrics by the meter, including denim: Sustainable Maker Room
På Skrå
Occasionally stock jeans fabrics from Swedish denim brands
Italy
Pronto Moda Tessutti
Mostly stretch denim fabrics with different fiber blends and washes.
Netherlands
Denim.Lab
Denim store that also sells fabrics and notions for those who want to sew their own jeans. Really nice selection of selvedge denim in many different weaves and washes. They even sell industrial sewing machines for the serious DIY jeans maker.
Rijs Textiles
Primarily medium and light weight denim in both darker and lighter washes.
France
Ma Petite Merceri
Stocks a diverse range of denim fabrics, including several versions that are produced in France.
North America
US
Denver Fabrics
Very large selection of denim fabrics, including selvedge and designer denim at a low price per yard.
Britex Fabric
Great range of denim fabrics in many different styles and weights, including selvedge and designer denim.
Hyde Park Denim
Denim wholesaler that also sells denim by the yard to home sewists. Nice range of weights and washes.
Nick Of Time Fabric
Large selection of stretch denim in many different washes, weights and colours.
Mood Fabrics
Sells a selection of designer denim fabrics from well known brands
Fabric Wholesale Direct
Selection of both stretch and regular denim, plus some different surface treatments.
Emma One Sock
Specialises in high-end denims from well known designers and mills, and usually have a selection of eco-friendler denim too.
G Street Fabrics
Stocks both stretch and 100% cotton denim twill in a several different washes and colours.
Canada
Black Bird Fabrics
Nice selection of denim, including Japanese denim and some hemp/cotton version too.
Closet Core Patterns
Sells notion kits for making your own jeans
Asia
Japan
Citron Jeans
Fantastic selection of high-quality denim fabrics, notions and tools. Unfortunately currently on hiatus due to Covid-related global shipping limitations.
Australia and New Zealand
Australia
Tessuti Fabrics
Good range of quality denim, including several eco-friendlier options such as organic cotton and hemp.
Sew Active Fabrics
Has a nice range of eco-friendler stretch denim fabrics, including tencel blends and recycled fibers.
Megan Nielsen
Sells jeans making kits and notions, including rivets, buttons, zippers and leather patches.
New Zealand
Miss Maude Sewing
Sells a really beautiful range of Cone Mill denim and other high-quality jeans fabrics in different weaves and washes. Also stocks Tencel blends and selvedge denim.
Backstreet Bargains
Stocks a selection of stretch and non-stretch denim in different weights.