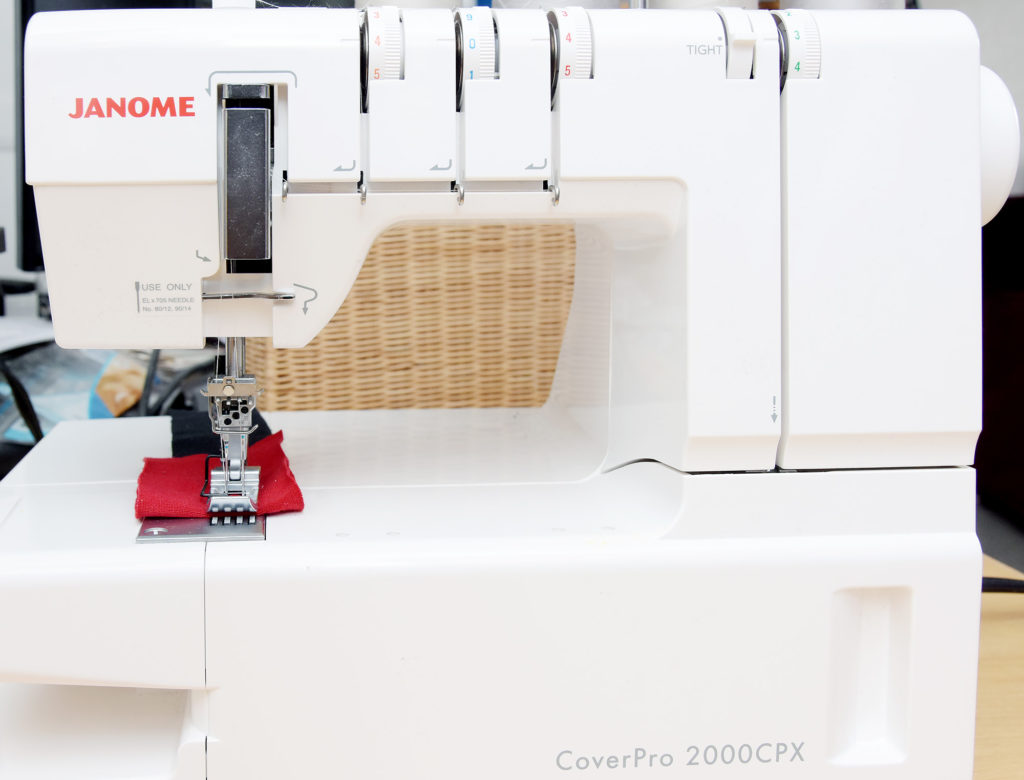 In this Janome Coverpro 2000 review I will dive into all the specifics of this high end coverstich machine, such as the seams, the pros and cons, and if this coverstitch machine truly worth the price. This machine is regarded as one of the best household coverstitch machines. It's also the one I was recommended when I interviewed an expert on the subject of how to master coverstitching.
When the coverstitch function broke on my Pfaff Coverstyle and the repair shop said that they no longer could get hold of the spare part. I decided to fork up the money and buy the Janome Coverpro. It was high time anyway, since I sew so much knit garments and was getting increasingly frustrated with how badly the Pfaff was performing when it came to the coverstitch.
I've used the Coverpro now for three months and feel it's time to share how I feel it's performing. 
The Janome Coverpro 2000 review
The specs of the Janome Coverpro 2000cpx
Triple coverstitch seam (6mm, 3 needles),

Wide twin coverstitch seam (6mm, 2 needles),

Narrow twin coverstitch (3mm, 2 needles)

Chain stitch (1 needle)

Differential feed (

0,5 -2,25)

Stitch length from 1 to 4

Free arm

A large bed space

Foot pressure adjustment

Manual threading

Adjustable presser foot pressure

Led light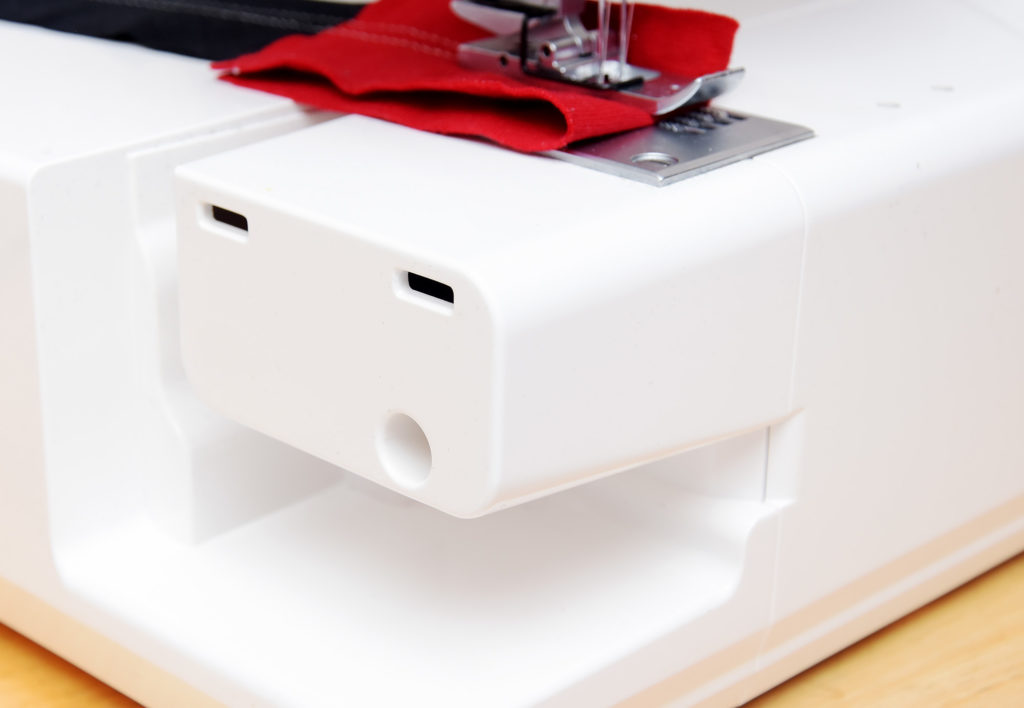 The free arm on the machine. You remove a part from the board to make the arm accessible.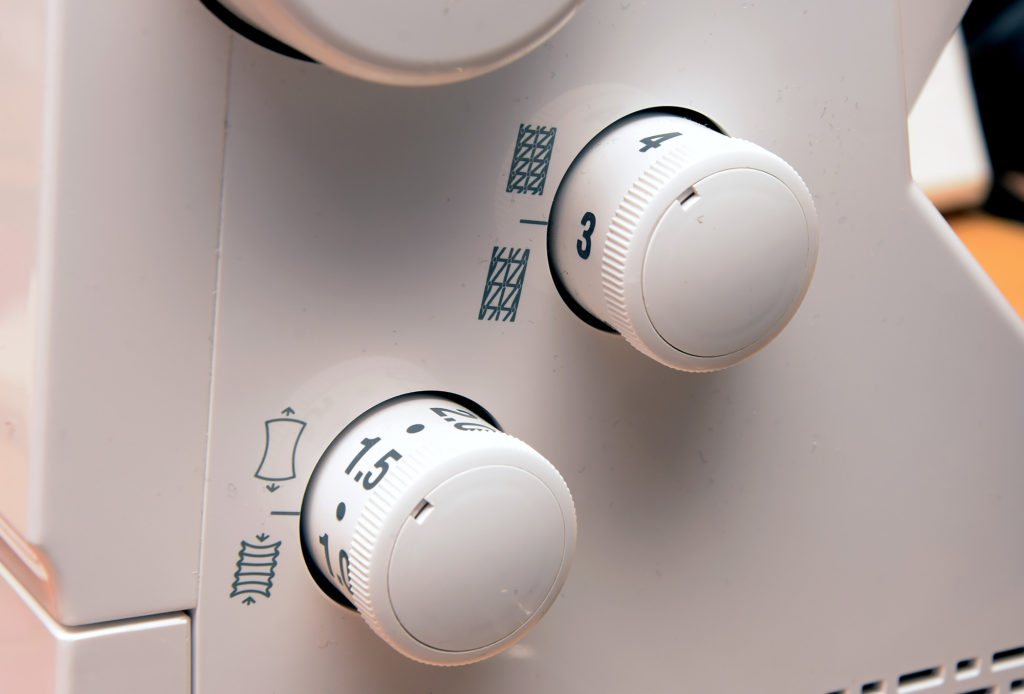 The stitch length and differential feed settings.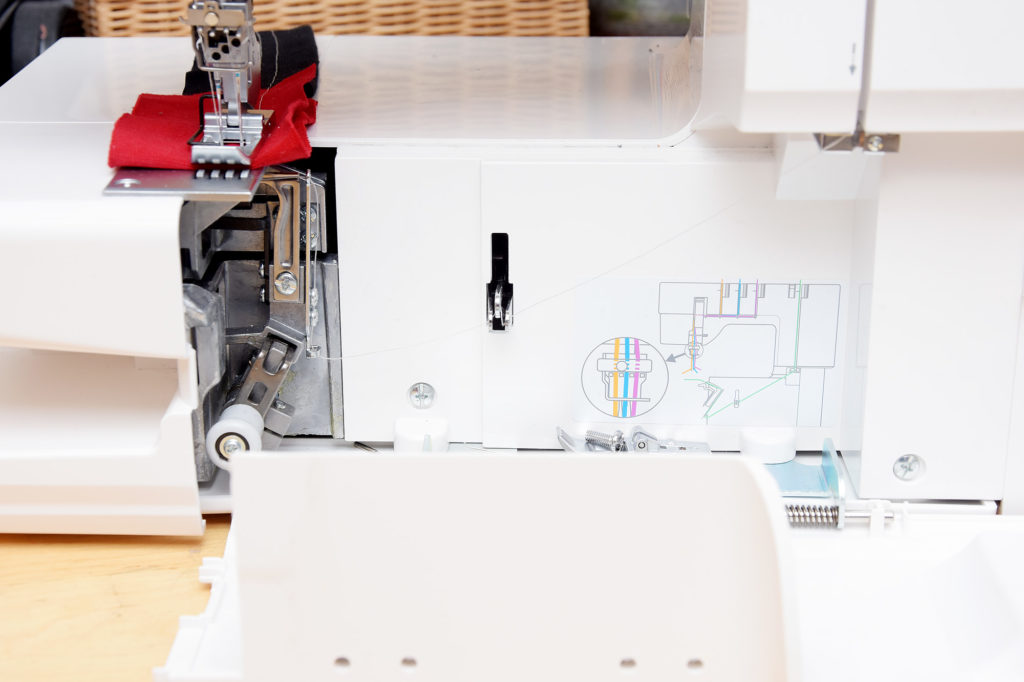 Accessories included
Set of Schmetz ELX system coverstitch needles

Screwdriver (Large) Screwdriver (Small)

Tweezers

Spool Nets

Spool Holder Caps

Lint Brush

Needle Threader (found this one quite flimsy sadly)

Attachment Screws (for accessories)

Accessory Box
There are also several attachments and special presser foots available, such as tape binder, clear presser foot and elastic gatherer, but they have to be purchased separately
Overall impressions of the Janome Coverpro
It's a sturdy high quality machine that is very reliable when it comes to sewing consistently good cover hems and stitches. Compared to my old Pfaff, the Janome is just miles better when it comes to working smoothly and not mess up the stitches, even when it comes to more challenging fabrics. It is however no miracle maker, and there are times when I have to re-thread the machine and tamper with the settings in order to create good looking stitches. In my Ultimate guide to coverstitching I go through all the steps when it comes to troubleshooting faulty stitches on coverstitch/coverlock machines, and even with such a great machine as the Coverpro you will have to perform some tweaks occasionally.
My two (minor) quibbles with the Coverpro
No seam guides on the sewing bed. Come on Janome, this is a hemming machine! At least you could have provided some kind of lines to help me sew a straight seam. An attachable seam ruler is included, but I prefer some kind of measuring gauge on the machine
The sewing machine pedal feels a bit low quality and flimsy compared to the rest of the machine and it keeps moving around. I would have preferred a sturdier and wider presser foot.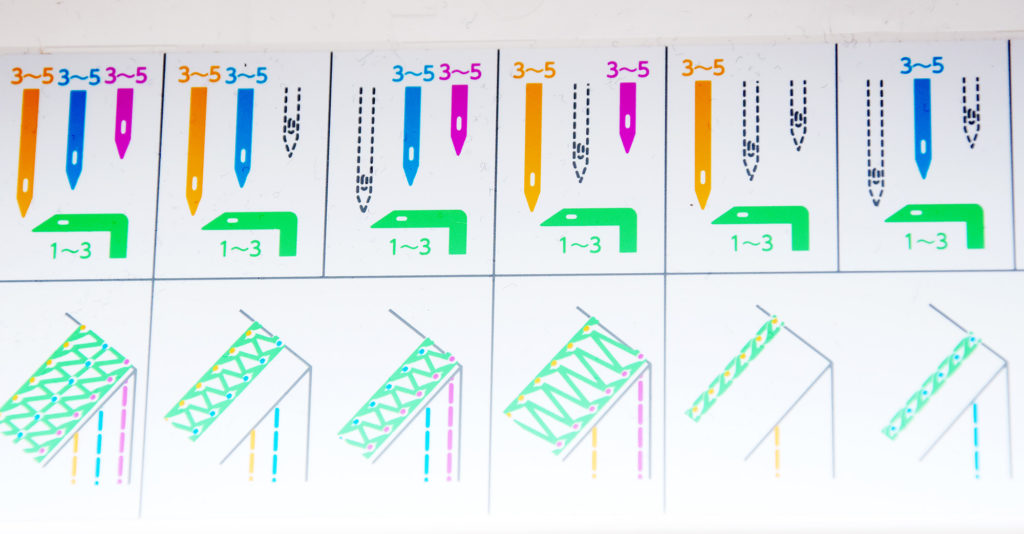 The Coverpro seams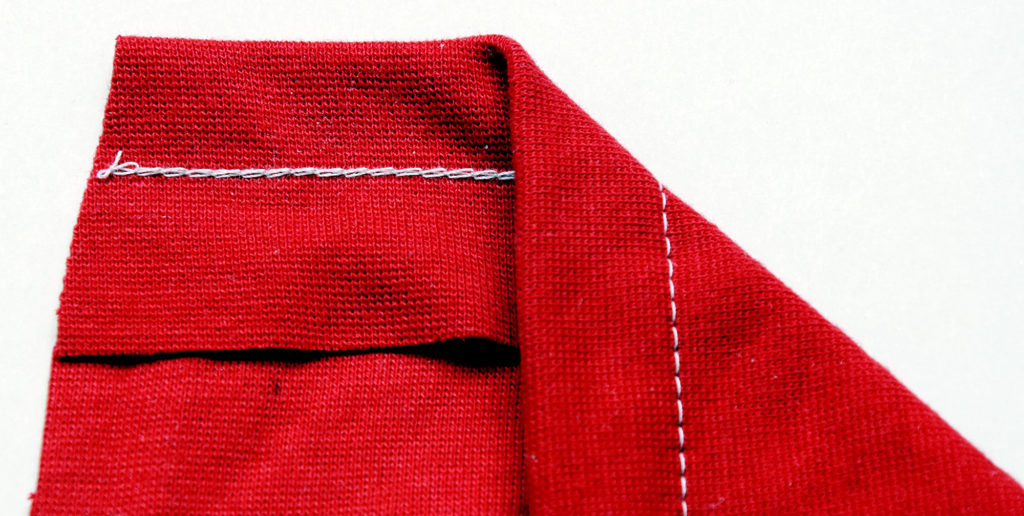 Chain-stitch
This is my least used stitch as it's not sturdy enough for hemming knits. It could however be used for achiving professional looking topstitching on jeans, as the chain stitch is commonly used in professional jeans making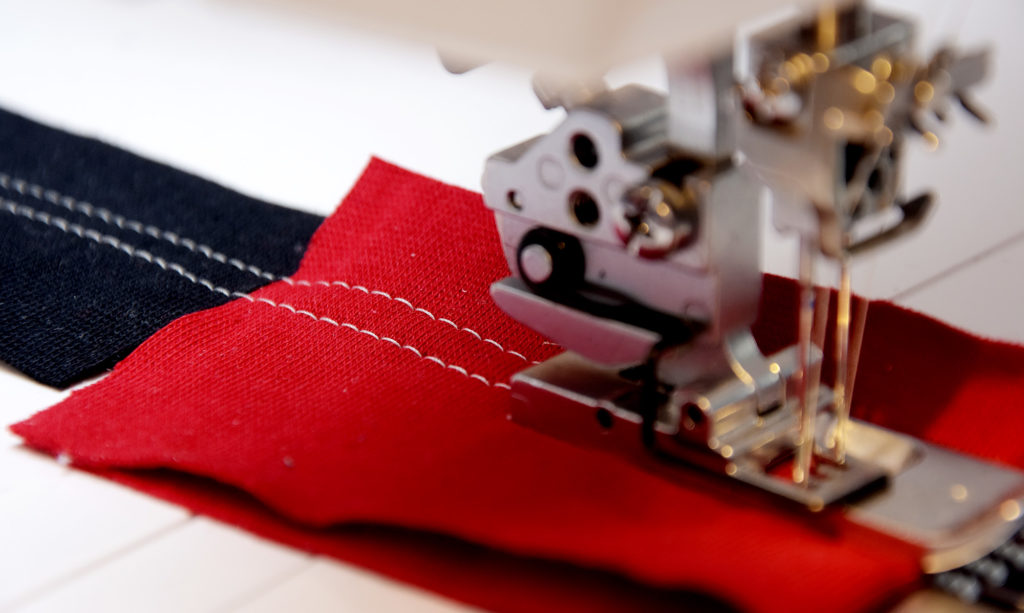 Wide 2 needle coverstitch
This is probably the stitch you will use the most. Proved a very nice looking coverstitch and covers the folded edge beautifully. Perfect for hemming garments, especially for hemming tops, skirts, lounge pants and dresses. Also great if you are sewing belt loops on jeans.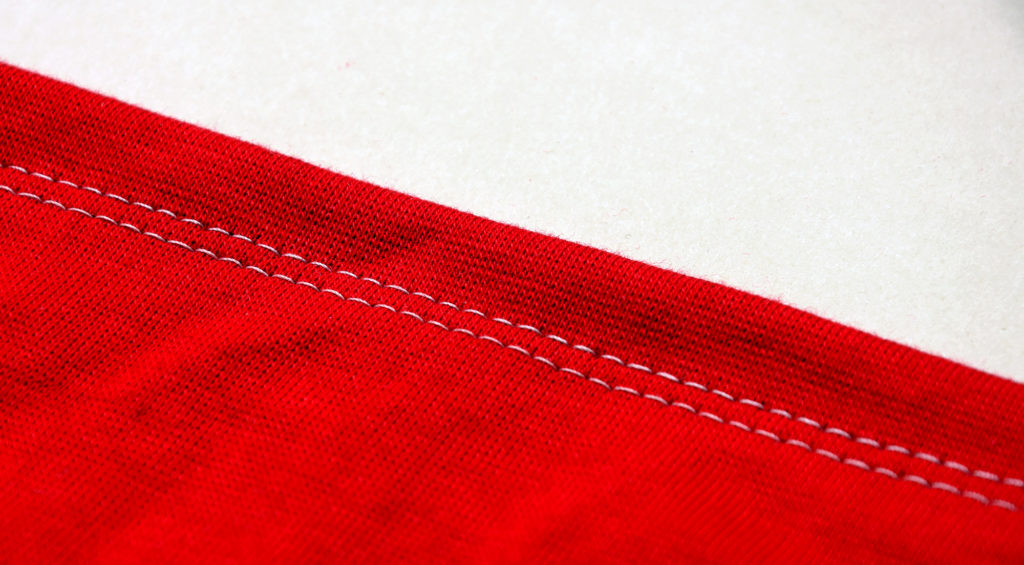 Narrow 2 needle coverstitch
Works the same way as the wide coverstitch, the narrow seam is mostly used for hemming sleeves, necklines and leggings.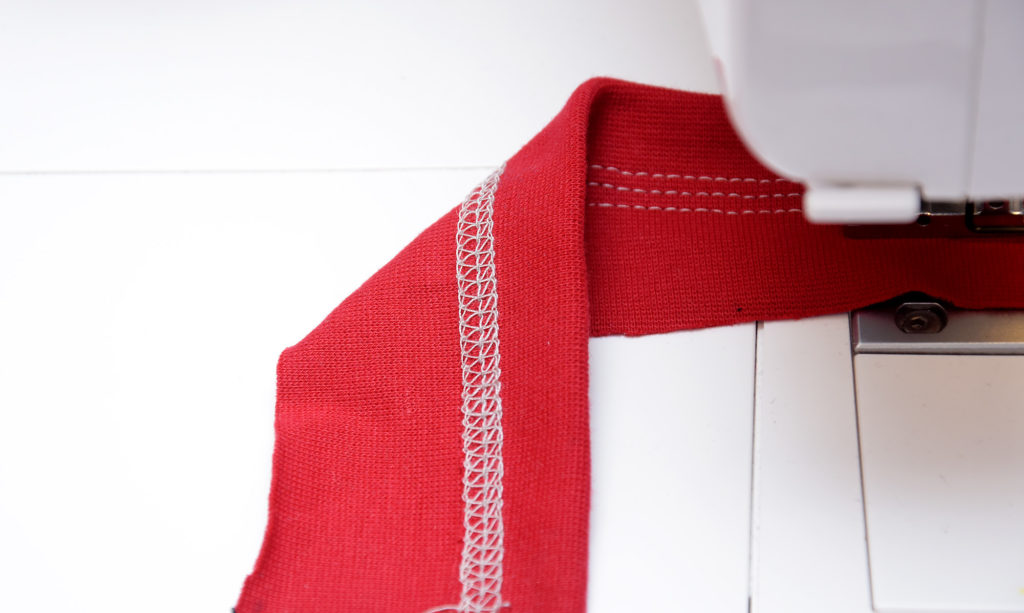 Triple 3 needle coverstitch
This is my favourite stitch as the stitches on the wrong side looks very similar to the flatlock stitches in store bought activewear. To achieve this look I first sew the seams the serger, then cover the seams with the triple 3 needle coverstitch. If you want even better seam coverage you can use woolly nylon in the lower looper.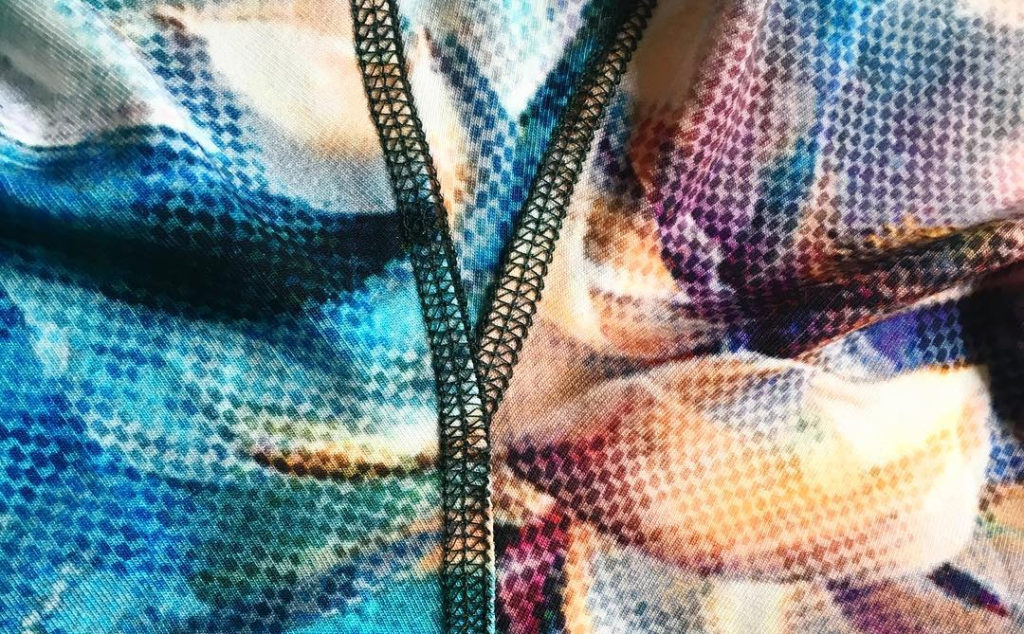 The 3-thread coverstitch used as a flatlock seam on my flower print and mesh leggings.
The price vs the value of the Janome coverstitch machine
I paid the equivalent of 760 USD for my machine, which is farily close to what it retails for in the US. Not sure how the pricing looks in other countries, but I suspect it varies. That is a lot for a machine that basically can only do variations of one stitch, so I understand why people are on the fence about the investment. But for me who sews a lot of knits, it's a no brainer. 12 years ago I tried to hem a lycra/rayon knit with a twin needle on my regular sewing machine and it was a disaster. Around the same time I was introduced to the Pfaff coverstitch/serger combo machine by a woman in my sewing group and I knew I had no other choice but to shell out the dough if I wanted to continue sewing knit garments. And I have not looked back.
The three main reasons to invest in a quality coverstitch machine
Skipped and popped stitches are kept to a minimum

The hem looks incredibly sleek and professional, not twisted or wobbly.

The differential feed keeps the hem from growing, which is usually a big problem when you are hemming stretchy knits with a regular machine
Final advice: Buy from a seller that offers a class on how to use the machine
This is HUGE in my opinion. I have taken classes from the vendor for both my old Pfaff and the Coverpro and that has helped me tons. While there are tons of tutorials online, having someone show you IRL is invaluable when it comes to mastering the coverstitch in my humble opinion.   
I hoped you found my Janome Coverpro 2000 review useful. If you have more questions regarding the machine, just leave a comment and I will answer!
Also Melissa from Fehr Trade has written an excellent article on coverstitching in Seamwork magazine