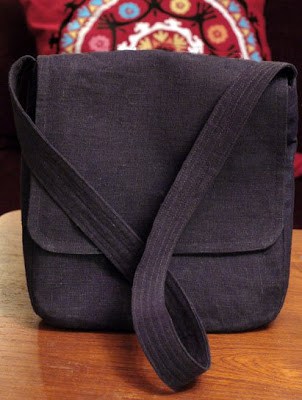 Well I've done my part of the deal and I think Anita is pretty far along as well. This was a really quick and fun project. I enjoy making things for others, the only thing that makes me a bit nervous is that I want everything to be top notch so I fret even more than usual about the tiniest details. The Burdastyle Diana messenger bag pattern was easy enough though, but since both Anita and I are habitually tweakers of patterns we decided to omit the darts and use a side piece instead to give the bag more shape. I will try to review the pattern soon on Patternreview since no one, to my surprise, has done it yet
The bag is made of a mid weight linen fabric and all pieces are interfaced with a thick, almost rubber like interfacing to make it even sturdier.
Inside it's lined with a shiny cotton/poly twill that is normally used for children's winter wear like overalls and thermo pants. It's incredibly sturdy and called bävernylon (beaver nylon), I don't now what's the English equivalent, I've never seen it in any non-Scandinavian fabric store come to think of it. Good stuff anyhow.
A little glimpse of the bävernylon lining.
As for the rest of my projects it's kinda scattered all over the place right now. Also we are moving in a month so there is that dreaded attic clean-out to be taken care of, not to mention starting packing. Ugh. I kinda promised myself (and later my boyfriend when he moved in) to never move again after the last one, and well, three years later here we go… It's actually back to my old apartment (long story) so at least I know that I'll be able to fit in a sewing table in there 🙂