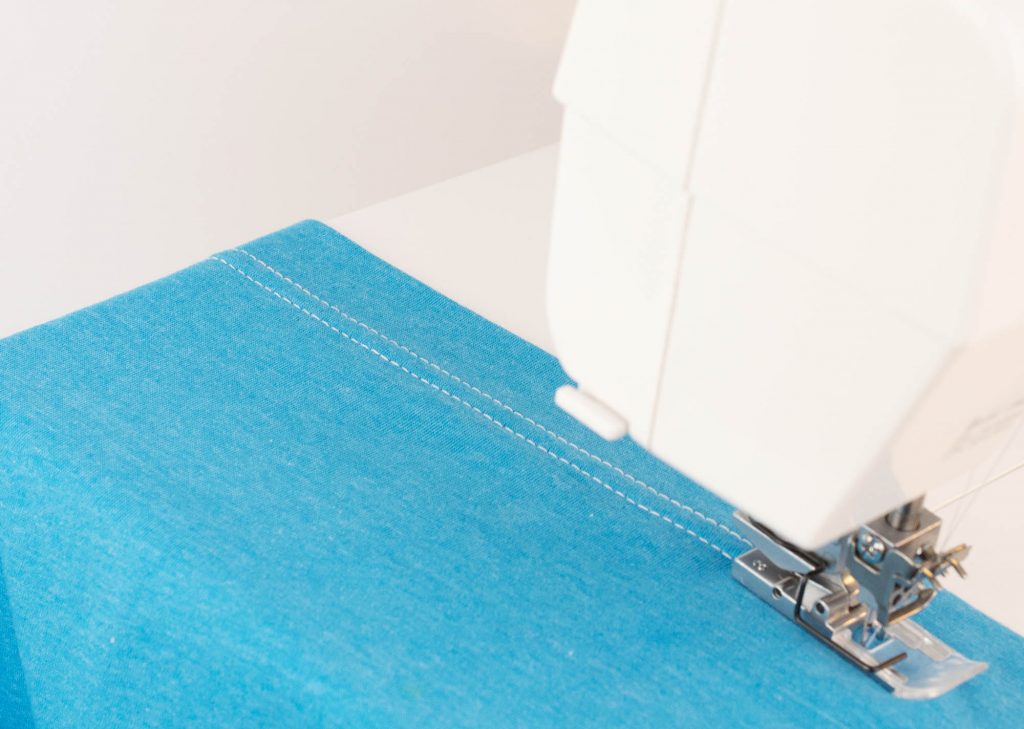 Coverstitch. So essential for hemming knits, but also frustrating and expensive to accomplish. So I decided to get to the bottom of coverstitching and make a post where I both share tips from a pro and then talk about the tips and hacks that I use to master the coverstitch on a budget machine. Here's my coverstitch guide.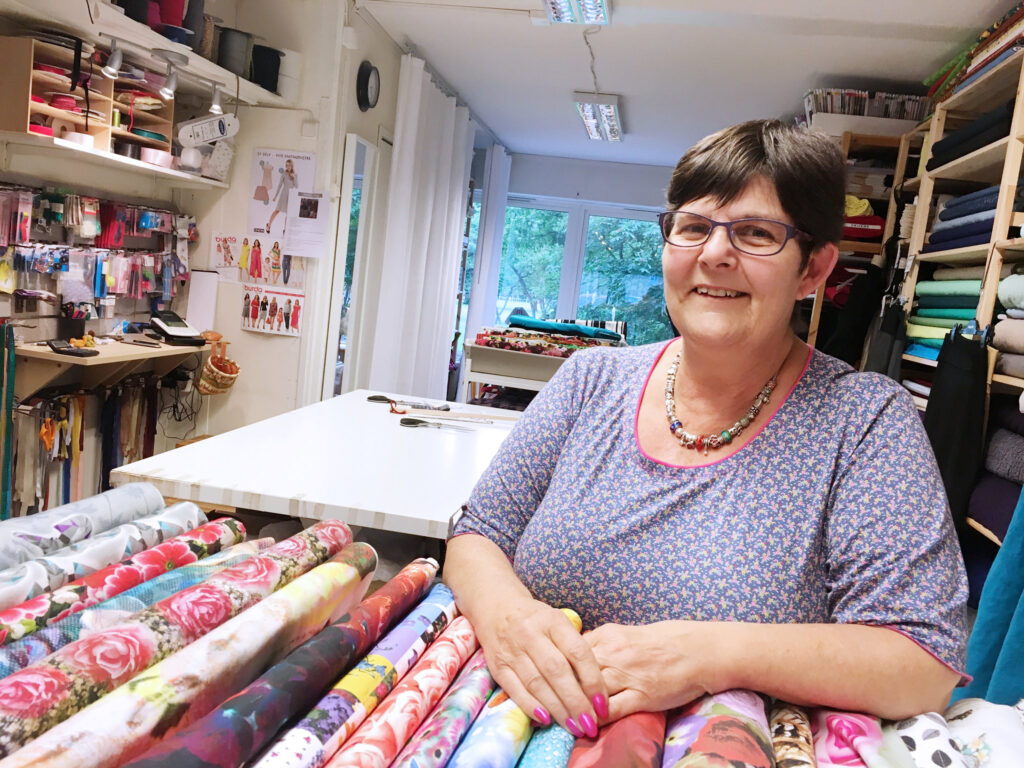 Let me introduce my coverstitch expert: Yvonne, the owner of Tygaffären, the best fabric store in Gothenburg (and probably one of the best in Sweden too).
Yvonne is not just super skilled when it comes to sewing knits, she knows about the best tools too as she is also in the sewing machine business.
Yvonne's top tips for getting perfect coverstitch seams
1. You get what you pay for
"A cheaper coverstitch/serger combination machine will never work as well as a more expensive combo machine with separate threading for serger and coverstitching and air threading. So buy the best combo machine or buy a standalone coverstitch machine"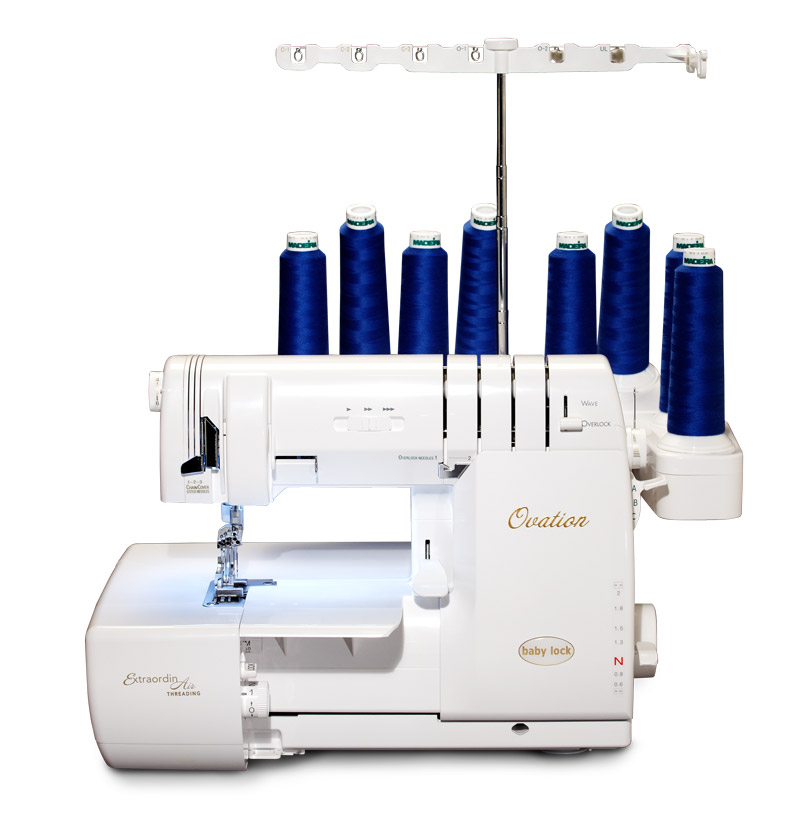 2. The best coverstich/serger combination machine on the market is…
"I highly recommend Babylock Ovation, it's just way ahead of the competition. It's an eight thread serger which means you can have it threaded for coverstitch and overlock at the same time. Plus the air threading makes this machine absolutely foolproof when it comes to threading. Yes, the price is steep, but you get what you pay for."
Note: The Ovation seems to retail for around $5000 in the US, compared to $3000 in Sweden. So that's a huge difference! Not sure how those prices compare internationally. Also while we were chatting a customer came in who had bought the Ovation after fretting for a long time due to the price. And she too said it is amazing and miles ahead over her old cheaper machine. But I still balked a bit at the price as it costs 4 times what I paid for my Pfaff Coverstyle. But maybe someday!
3. Or invest in a good standalone coverstitch machine
"I recommend the Janome Coverpro 2000, it's a great machine if you already have a serger and only needs the coverstitch"
Note: Since I wrote this blog post I have bought the Janome Coverpro. You can read my review here and or watch my video review of the Janome 2000 CPX. BabyLock Coverstitch standalone machines and the Juki 1500 are also two highly regarded machines.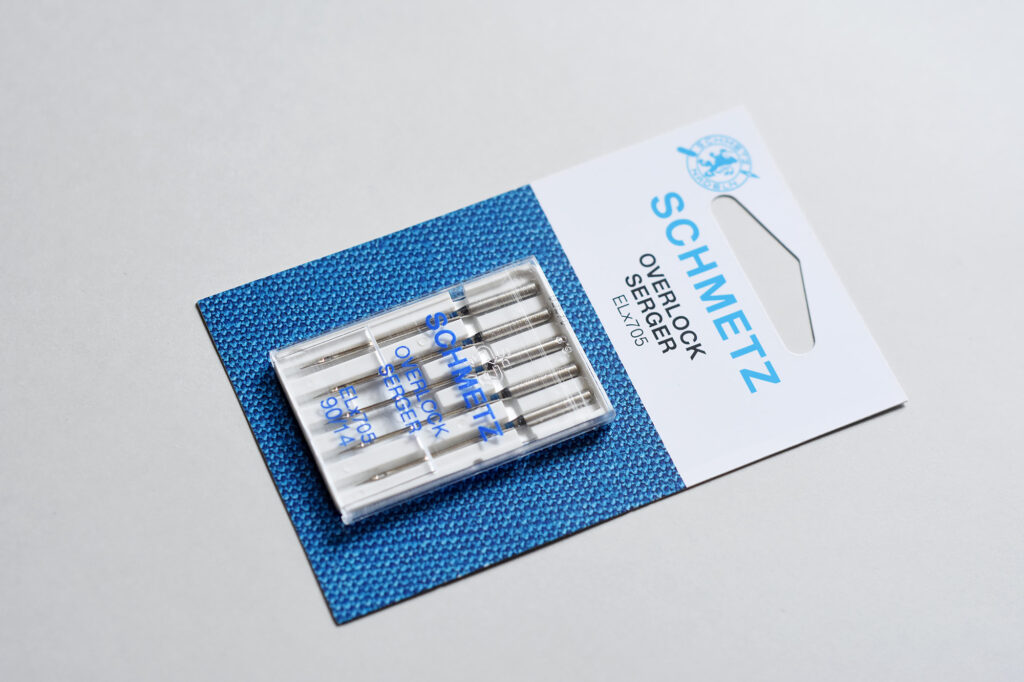 4. Only use ELX705 Serger/Overlock needles (Elx705 SUK)
"These are by far the best needles out there for coverstitching knits. Using regular ballpoint needles won't cut it."
ELX 705 Serger Overlock needles (Amazon affiliate link)
5. Most issues are caused by faulty needles, tension or threading
"People tell me that something is wrong with the coverstitch machine, but on closer inspection, it's pretty much always something wrong with how the user has set up the machine"
Make sure the presser foot is up when threading the machine. If the foot is down the tension will be off.
Use the right needles (see above)
Check that the thread is properly placed between the plates, this is one of the most common reasons to why the stitches are faulty
6. Serger and coverstitch combo machines that use the same threading will always be a compromise
"Sewing machine technicians say that you have to decide on what you want, a good serger or a good coverstitch machine. It's impossible to adjust the machine to excel in both areas if the same threading is used for both things."
If you need an illustrated step-by-step coverstitch guide to troubleshooting I have compiled one for you!
My top tips on how to coverstitch with a budget machine
In this coverstitch guide I want to share all the stuff I've learned from using my budget Pfaff Coverstyle machine for 12 years. I have now upgraded and have less issues.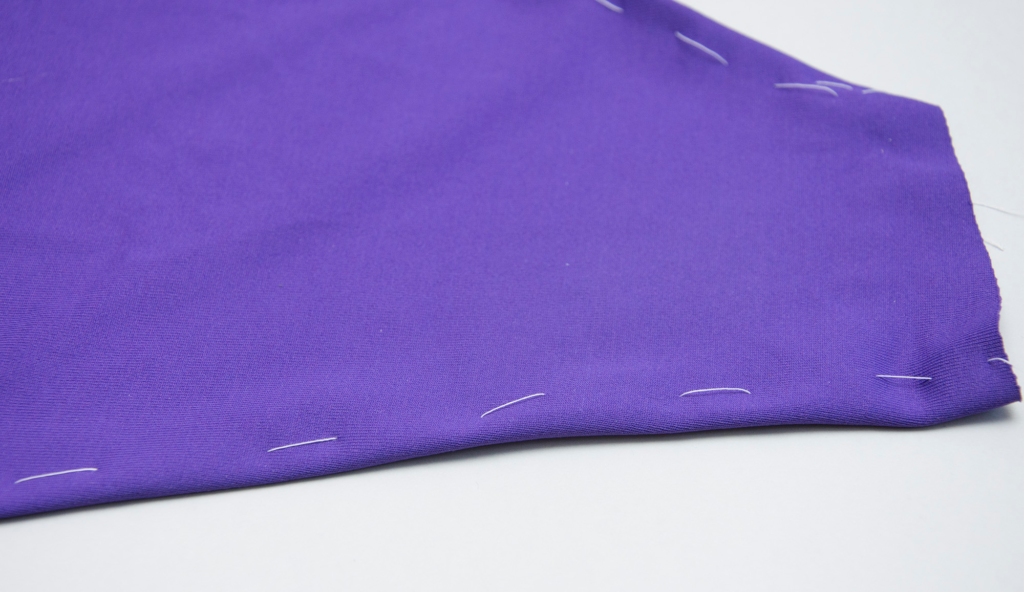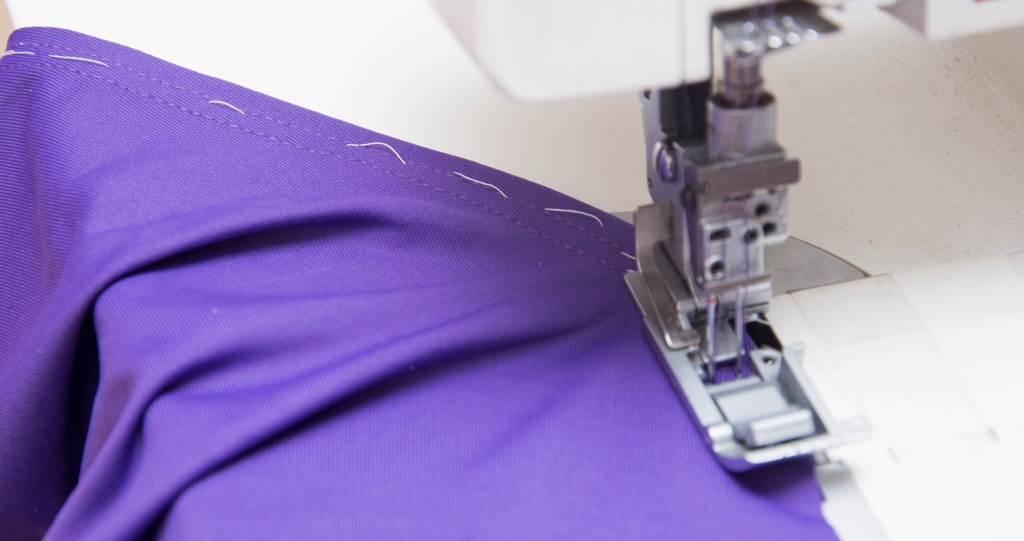 1. Baste first, this will keep the fabric from slipping and twisting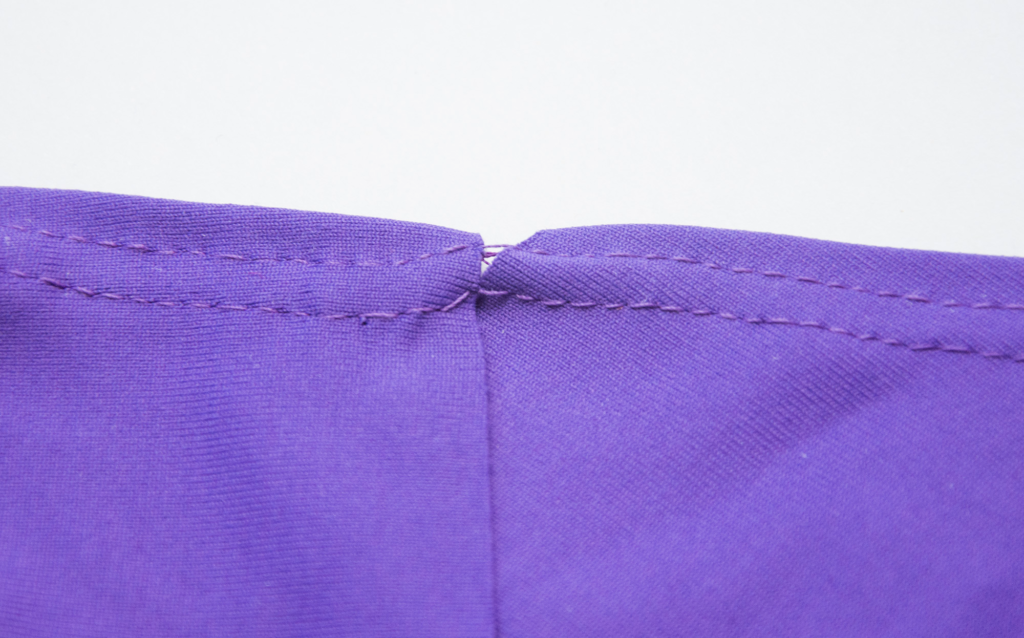 2. Don't stop coverstitching. Instead, sew pieces together without pausing
Many coverstitch issues happen in the beginning or finishing stages of the sewing. To avoid that, layer pieces and just continue sewing. Perfect for sleeve and leg hems for instance. Sometimes I even use a fabric scrap as a starter fabric and then add on the garment pieces.
3. Sew the hems of sleeves and leggings on the flat
This will make it so much easier. If you look at your RTW knits, you'll see that all are made that way. After hemming, sew together the side seams, fold in one direction and topstitch a short row to secure the seam and keep it in place.
4. Needles makes all the difference
I second Yvonne's advice and only use the Schmetz ELX705 needle system (Amazon affiliate link)
5. Pull the upper threads to make sure there is tension.
It's so easy for the thread to not be properly secured between the plates. That's why I always pull the upper threads before sewing. There should be plenty of resistance if the machine is set up right for coverstitch.
6. Sew with confidence, don't stop and start all the time
The first few stitches can be slow, but then you need to speed things up and keep an even speed. I find that this really helps with thread issues and skipped stitches.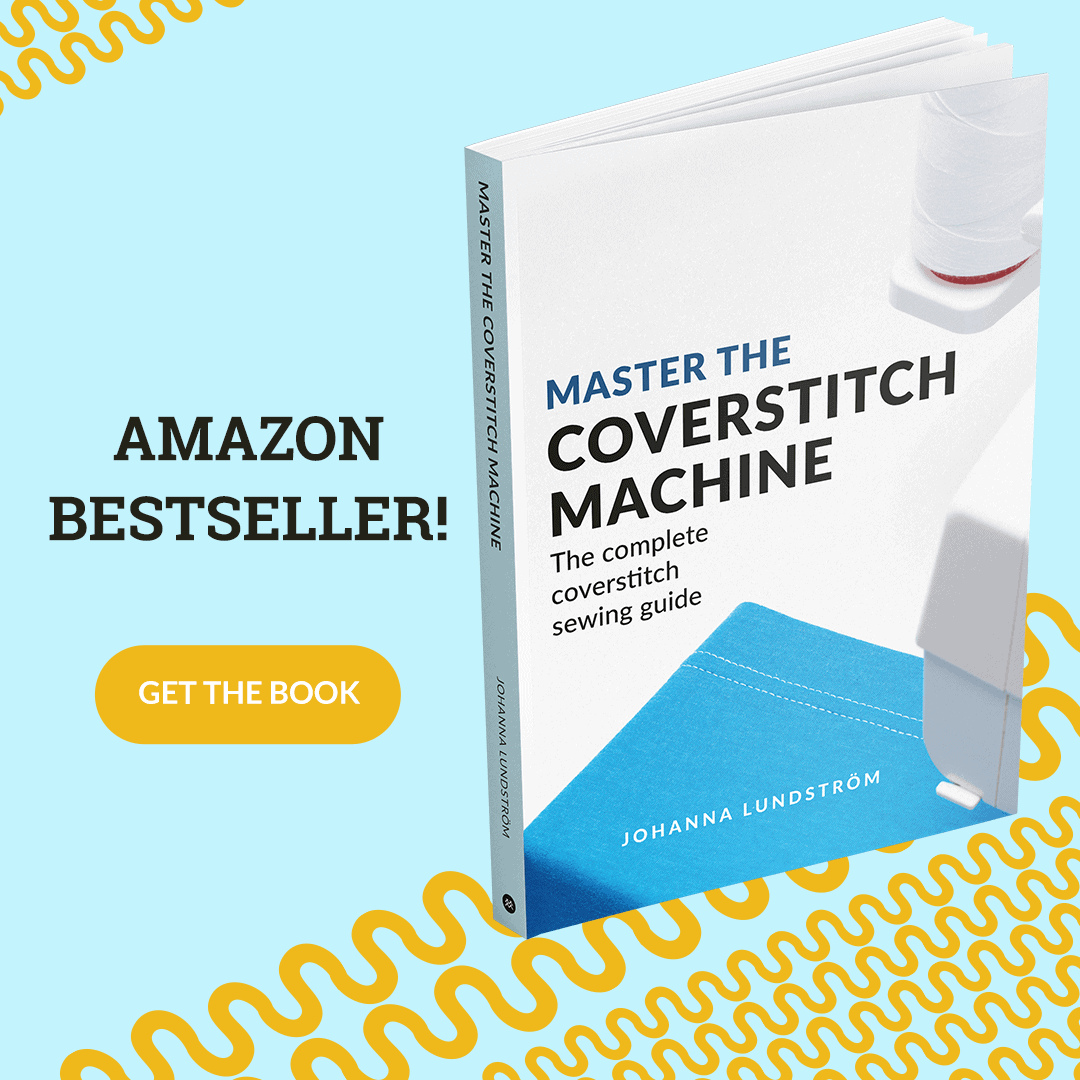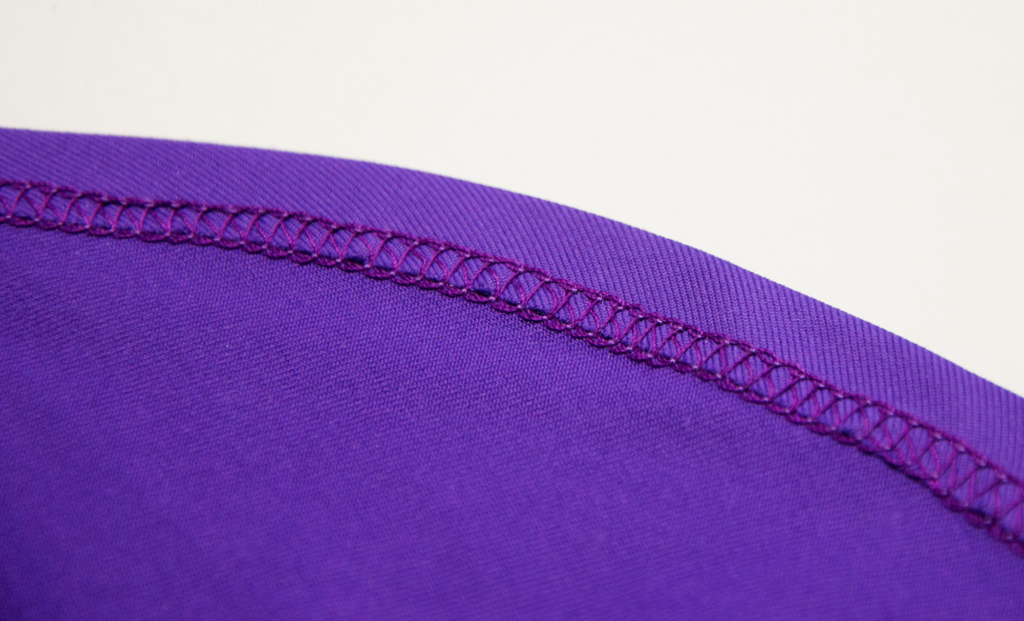 7. Where the needles hit the fabric can also make a difference
I prefer the look of the edges covered by the seam (like in the image above), but sometimes you will get better results if both needles hit the folded fabric.
8. Check the threading
And if all fails, rethread the machine. This will often solve the problems.
Update: Since I did this coverstitch guide in 2016 I have now published the book Master the Coverstitch Machine, that you can get both as a print book and as an e-book!